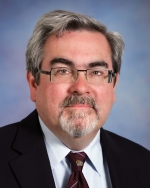 R. Guy Erwin, Ph.D.
Synod Bishop, Gerhard & Olga J. Belgum Professor of Lutheran Confessional Theology; Professor of Religion and History; Director of the Segerhammar Center for Faith and Culture
Dr. Guy Erwin, who joined the CLU faculty in the summer of 2000, is the first full-time holder of CLU's first endowed chair, the Gerhard and Olga J. Belgum Chair of Lutheran Confessional Theology. He also serves as Director of the Segerhammar Center for Faith and Culture. In the 2004-05 and 2005-06 academic years he served as CLU faculty chair. As holder of the Belgum Chair, he serves as a member of the CLU Office of University Ministries, coordinating the work of the Chair, the Segerhammar Center, Campus Ministry, and Church Relations.

In addition to a survey course in the history of Christianity, Prof. Erwin teaches seminar courses on topics in medieval, Reformation, and early modern history and theology, including very popular seminars on the life and thought of Martin Luther and St. Augustine's City of God. Almost all of his courses are cross-listed in both Religion and History, and he occasionally teaches courses in the History department on modern German history and Scandinavian history. He also offers instruction on liturgy and worship in cooperation with the Music Department and occasionally teaches ecclesiastical Latin as a tutorial.

Erwin is a native of Oklahoma and an active member of the Osage Tribe of Indians. He is a member of a number of scholarly societies, a loyal alumni volunteer of his various alma maters, and enjoys book collecting and the study of genealogy. Dr. Erwin is an ordained minister in the Evangelical Lutheran Church in America; he and his partner Rob Flynn are members of St. Matthew's Lutheran Church in North Hollywood, CA, and are very active in Lutheran circles locally, nationally, and internationally.

Before coming to CLU in 2000, Dr. Erwin taught the history of Christianity and historical theology at Yale Divinity School from 1993-99, and he returned to Yale as visiting professor of church history in the 2006-07 academic year. He holds an undergraduate degree with honors in history from Harvard, where he studied under Steven Ozment, George Huntston Williams and Myron P. Gilmore, and he has two master's degrees and a doctorate from Yale, where he worked with George Lindbeck, Carlos Eire, and the late Jaroslav Pelikan. Erwin did additional graduate study and research as a Fulbright scholar in Germany at the Eberhard-Karls-University in Tübingen with the late Heiko Oberman, and at the University of Leipzig with Helmar Junghans. He is an authority on the theology of Martin Luther, the history of late-medieval and early modern Germany and Scandinavia, and the history of Lutheranism since the Reformation.

Professor Erwin has published a book on Emanuel Swedenborg (1688-1772), the Swedish scientist and religious visionary, and is working on both an "Introduction to World Lutheranism" (for Cambridge University Press). His next major project is a new anthology of the writings of Martin Luther, intended for use in undergraduate courses, for the Penguin Classics series.

In 2008, Dr. Erwin was appointed to the Faith and Order Commission of the World Council of Churches, for a term of about ten years. On it, he represents the Evangelical Lutheran Church in America, and is the only American Lutheran among the 120 members of the Commission.

On May 31, 2013, Dr. Erwin was elected the fourth bishop of the Southwest California Synod of the ELCA. He will assume that office on September 1, 2013 and be formally installed on September 21.