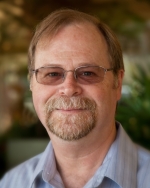 Kenneth O. Long, Ph.D.
Associate Professor of Biology
Dr. Long teaches courses in vertebrate anatomy, physiology and neuroscience. His general research interest is in neuroscience. He involves undergraduates in research utilizing anatomical, biochemical and electrophysiological techniques. His outside interests include natural history, acoustic music and T'ai Chi.

B.A. Biology, San Francisco State University. 1976 Ph.D. Biology (Cell Biology and Physiology), University of California, Santa Barbara. 1984 Post-Doctoral Research Fellow, University of Pennsylvania, 1984-1989.