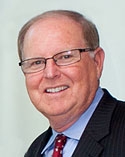 Robert Fraisse, Ph.D.
Distinguished Educator in Residence and Interim Dean
Dr. Fraisse adds value to the GSOE with over 40 years experience as a teacher, counselor, site administrator, district administrator and school district superintendent. Additionally, Dr. Fraisse has recently served as chairperson of Ventura County First Five as well as chairperson of the P-16 consortium in our county. Fraisse has taught a variety of leadership courses in the GSOE and provides consultation to local school districts on a number of educational issues.