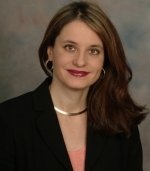 Virginia Ilie, Ph.D.
Assistant Professor
Dr. Ilie is a faculty member in the School of Management at California Lutheran University. She holds a Ph.D. in Management Information Systems and an MBA in Finance from the University of Central Florida.

She has consulted with several large hospitals working with C-level executives in formulation of IT-based strategies for complex enterprise system implementations and change management interventions.

Currently, her research interests are in the area of information technology implementation in healthcare organizations, including change managment strategies and user engagement with clinical information systems. Her work has appeared in journals such as MIS Quarterly, Decision Sciences, European Journal of Information Systems, Database, and International Journal of Health Information Systems and Informatics.

She received various best paper awards and nominations from various national and international conferences.

Ph.D. Management Information Systems (2005), University of Central Florida, Orlando, FL.
MBA Finance (2001), University of Central Florida, Orlando, FL.

Healthcare Information Technology Implementation
Change Management and Leadership Tactics used in Complex Enterprise System Implementations
User Engagement with Complex Information Systems

Ilie, V., Turel, O. and Witman, P. (2013) "Towards a New Design Paradigm for Complex Electronic Medical Record Systems: Intuitive User Interfaces," presented at the Hawaii International Conference on Systems Sciences, HICSS 2013, Maui, HI.

Lee, Y, Chen, A and Ilie, V. (2012) "Can online wait be managed? The effect filler interfaces and presentation modes on perceived waiting time online," MIS Quarterly 36 (2), pp. 364-394.