Events for Wednesday, Sep 26, 2012
The office of Campus Ministry will hold a brief time of prayer and reflection for students and faculty on the Thousand Oaks Campus, on Wednesdays in Nygreen 1.
Ahmanson Science Center, ASC-100
A leading researcher discusses the latest developments in biomedical microelectromechanical systems (bioMEMS).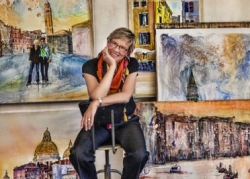 Terry Spehar-Fahey exhibits a series of watercolors inspired by her trip to Venice, Italy, with CLU students. An artist's reception will be held at 7 p.m. Saturday, Sept. 15.