Events for Friday, Feb 1, 2013
Scandinavians have played important roles in peacemaking and humanitarian activities around the globe. This symposium will give a sampling of Scandinavians' contributions toward a better global society. The public is invited to share the time-honored spirit of a symposium, which blends music, dining and the free exchange of ideas to enhance the pleasure of learning.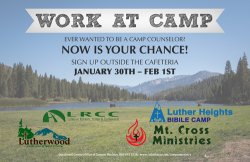 Outside Cafeteria
Representitives from four summer camps will be on campus recruiting for summer counselors. Table will be set up in front of the Cafeteria.