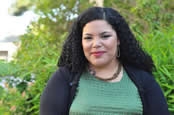 An alumna of Thousand Oaks High School and Moorpark College, Hannah earned her bachelor's degree in geography with a minor in science and mathematics education from the University of California, Santa Barbara.

Hannah came into social media as a personal user and later used several different platforms to promote current news as the editor of the Student Voice newspaper for the Ventura County Community College District and The Bottom Line student news publication at UCSB, a trailblazing effort at both institutions.

Outside of the virtual world, Hannah frequently volunteers at local theatres around the country, including Conejo Players Theater in Thousand Oaks and High Street Center in Moorpark. Hannah also sits on the advisory board for the Student Voice Newspaper.

For more personalized instruction for your nonprofit, Hannah also provides social media consulting services.