Matthew Ward, Ph.D.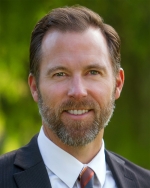 Vice President, Enrollment Management and Marketing
Book this person as a speaker:
Email: mward@callutheran.edu
Phone: (805) 493-3481
Speeches:
Admission Trends
A discussion of the admission process, demographics, market research and recruitment.

Financial Aid
A discussion relating to scholarships loans, leveraging and discounting.

Enhancing the Transfer Pipeline
Making the case for transfer students and becoming transfer-friendly.

Using Data to Build Strategy
Building a data toolkit to inform enrollment decisions.

Becoming a Hispanic-Serving Institution
What it means to be a Hispanic-Serving Institution and the opportunities it brings.
---
Matthew G. Ward, Ph.D. is the Vice President of Enrollment Management and Marketing at California Lutheran University, where he is responsible for strategic enrollment management and marketing efforts for the University. His responsibilities include undergraduate admission, graduate admission, financial aid, marketing and web communications.
Ward is actively involved in several national organizations in the field of enrollment management and marketing, including the American Marketing Association, the National Association of Collegiate Admission Counseling, and National Council of Enrollment Policy and Practice. He has presented at several conferences on issues related to enrollment strategy, marketing higher education, and building campus diversity.
Ward arrived at Cal Lutheran in February 2006 to serve as the Dean of Undergraduate Enrollment. He was promoted to his current role two and a half years later. Since his arrival, Cal Lutheran enrollment has grown 26 percent, while measures of student quality, diversity, and persistence also increased substantially.
These gains are due in part to innovative programs that Ward has launched. This includes the Public Price Promise Scholarship which allows students who are admitted to select University of California campuses to attend Cal Lutheran for the same price and the 4-to-Finish Graduation Guarantee program which guarantees students they will complete their degree in four years or Cal Lutheran will pick up the cost of their tuition for each additional class required for graduation. Ward also implemented a new institutional brand platform that introduced a new logo, brand colors, typography, photography and other design elements. Most recently, Ward was instrumental in obtaining a $4.6 million, five-year federal grant to support Cal Lutheran as a Hispanic-Serving Institution (HSI) in Science, Technology, Engineering and Math (STEM). He continues to be a champion for Hispanic and low-income students by pursuing opportunities that will improve their overall student experience and outcomes.
Prior to joining Cal Lutheran, Ward worked in admission for 8 years at the University of Miami and for 2 years at the University of Wyoming. He earned a bachelor's degree from the University of Wyoming in 1995. A former visiting scholar at the Center for Economic Research and Teaching in Mexico City, he earned a master's degree and doctorate in international studies from the University of Miami.