Eva Ramirez, Ph.D.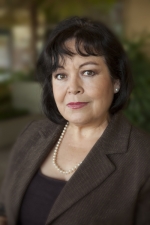 Associate Professor of Spanish
Book this person as a speaker:
Email: eramirez@callutheran.edu
Phone: (805) 493-3349
Speeches:
Spanish Language

Mexican Civilization and Culture

Corruption as an Institution in Mexico's Political System

Current Issues in Mexico

Latin American Literature

Mexican Literature

Family Values in the Latino Groups

Latin American Culture

Mexican Popular Music

Mexican Popular Culture
---
Dr. Ramirez is a Phi Beta Kappa Scholar. She has taught courses on Spanish language, Latin-American culture and civilization, theory of contemporary culture and Mexican and Latin American literature. Her research areas of interest are Mexican and Latin American literature, as well as literary and culture theory. She has published research on Mexican literature and has written numerous research papers on subjects including literary and nonliterary forms of sociocriticism on Mexico. Dr. Ramirez has served as a faculty adviser as well as editor and guest lecturer for the Upward Bound Program. She holds membership in a number of honorary societies and professional organizations. Dr. Ramirez directs the chapter Upsilon Upsilon of Sigma Delta Pi, the National Collegiate Hispanic Honor Society as well as the chapter Camma Sigma of Alpha Mu Gamma, the National Collegiate Foreign Languages Honor Society at California Lutheran University.