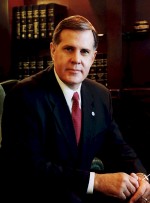 C. William (Bill) Guy
Adjunct Faculty Member
Office Hours: By appointment
Founder of Cornerstone International Group* and CEO of his local recruiting company, Cornerstone Leadership Solutions, Mr. Guy has served as a consultant to Boards of Directors and senior management of many of the world's largest organizations in both the public and private sectors. This senior-level consulting has included numerous executive evaluations of Chairpersons, Presidents, Managing Directors, and other top management in virtually every industry.

Previously, Mr. Guy served as a Senior Partner of Ward Howell International Group (now Heidrick & Struggles) and earlier as Senior Associate of Korn/Ferry & Associates, both firms being leaders in the field of retained executive search, commonly called "headhunting." Prior to entering the executive search profession, Mr. Guy served as a Group Executive for six subsidiaries of an NYSE-listed conglomerate (International Industries Inc.) with worldwide responsibility.

An active philanthropist, Mr. Guy served three terms as President of Outreach Love, an international charity for under-privileged, homeless, and mentally-retarded children, and he is the proud recipient of the prestigious "Silver Beaver" Award for outstanding service to youth and to the community.

Mr. Guy holds a degree in business administration from Foothill College plus a degree in economics (minor in psychology & education) from California State University, Northridge, and has guest lectured to students from many colleges including Stanford, Auburn, USC, UCLA, UCI, Peter Drucker Graduate School of Management (Claremont Colleges), SFV College of Law, etc. Additionally, he has written many articles, books, and guest columns on the subjects of career planning and organizational leadership.

* Cornerstone International Group has quietly grown to one of the largest consulting organizations of its type in the world. Cornerstone professionals are primarily former senior partners who broke away from premier consulting firms such as Booz Allen and Hamilton, Accenture, McKinsey & Company, Arthur D. Little, Ernst & Whinney, Sperry Rand Corporation, Hay Management Group, PE Consultants, Arthur Young, Korn/Ferry International, Boyden Associates, Berndtson International, Heidrick and Struggles, Spencer Stuart, Ward Howell, Egon Zehnder, etc. Cornerstone offices are strategically positioned in major cities globally.

Harvey Mudd College

Claremont, CA

Engineering Class of 1967

Foothill College

Los Altos Hills, CA

Degree in Business Administration.

CSUN (California State University, Northridge)

Northridge, CA

Degree in Economics

Minors in Psychology & Marketing.

CSUN (California State University, Northridge)

Northridge, CA

Post-Graduate Studies in Theology & Education,

USC (University of Southern California)

Los Angeles, CA

Guest Lecturer.

Marketing (ran the marketing worldwide for 6 divisions of an NYSE-listed company—International Industries, Inc.).

Sales Management (throughout career, has typically been #1 at sales of products or services; inspiring the same sales excellence in others).

Franchising (was one of the earliest executives in franchising—III & McDonald's, and personally built from scratch the largest franchise in its category worldwide).

Entrepreneurship (his company helped to build numerous start-ups including Cisco Systems--barely out of the garage--and Apple Computer, which only had 5 employees when they began helping Apple).

HR/Org. Dev./Talent Management (built and ran for 21 years the world's largest human capital consortium--CIG).

International Business (has built and run several global organizations, with offices in virtually every business center of the world—including ISA and Cornerstone).

Business in China & India (established 4 offices in India, 6 offices in China, plus 1 office in Taiwan—Cornerstone International).

Non-Profit Leadership (For 4 years, personally ran and grew by over 800% a non-profit organization—Outreach Love. Also has served on the national and international boards of several non-profit organizations including Adventure Unlimited and Boy Scouts of America).

Event Planning & Management (For over 20 years, personally planned and ran global, national, and regional events).

Hospitality Management (40 years of helping hotel, restaurant, cruise, travel, & leisure companies grow nationally and internationally including Marriott and Disney).

Business & Politics (personally ran a national campaign for a U.S. Presidential candidate—Ross Perot. Was part of the business team that helped President Reagan succeed. His organization helped attract business executives to join the administrations of 2 Republican and 1 Democratic U.S. Presidents).

Various books and articles on leadership, career planning, and job hunting.

Published book series entitled Getting a Job You Love.

Also published creative writing.