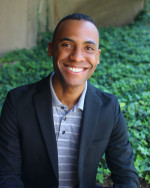 Deazell Johnson, Ed.D.
Adjunct Faculty
(he/him/his)
About
Dr. Deazell Johnson is an adjunct faculty member at California Lutheran University and California State University, Northridge (CSUN) and serves a full-time career counselor role at CSUN.
Dr. Johnson has earned his Doctor of Education in Educational Leadership and Policy Studies (2020) at CSUN, completing his dissertation, "Untapped, Underrepresented, and Unstoppable: A Qualitative Study of How Peer and Student-Faculty Interactions Shape the Experiences of Black Undergraduate Women in Engineering and Computer Science."
His main research interests are intersectionality and STEM, including racialized and gendered experiences of women of Black and African descent in STEM, BIPOC student retention in higher education, and more.
As a servant leader and situational leader, Dr. Johnson's passion, intersectionality, pedagogy, and skillset ultimately shape his commitment to serving all students and leading them to their strengths.
Pronouns: he/him/his
Pronunciation: deh-ZEL JAWN-son
Education