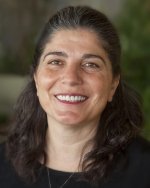 Hala K. King, Ph.D.
Associate Professor of Mathematics
Dr. King brings to CLU her passion for teaching and a wide variety of scholarly activities. She has taught as an instructor at the high school and college level in her home country of Lebanon, as a graduate assistant at Stanford while pursuing her Ph.D. in mathematics, and as a professor at UC Santa Cruz and at Pepperdine University prior to settling at the CLU campus a few years ago. Recognized by her students as a faculty member who "goes the extra mile," Dr. King has a clear vocation for teaching. She is a genuine and honest person who cares deeply about her students and their success.

Dr. King's research interests lie in number theory and geometric analysis. She is the director of the Math Single Subject Program at CLU, co-founder of the Thousand Oaks Math Teachers' Circle, and co-advisor and founder of the CLU Math Club. Dr. King is committed to providing students with rich learning experiences and is involved in supervising undergraduate research at CLU. When she is not learning, teaching, mentoring, advising, writing recommendation letters, interacting with her students, Dr. King and her husband Richard cherish every moment they spend as a family. Their sons, Grant and Brad, are a tremendous source of pride and happiness in her life. They are a blessing and a driving force behind all she strives for. Grant is majoring in Biology at Columbia University in New York, and Brad is majoring in Neuroscience and Molecular Biology at Pomona College. Special family times include taking their dog Rocky for hikes, baking chocolate chip cookies, gardening, picking fruits, watching movies, playing board games, discussing political issues, and enjoying a good meal at their kitchen table.

B.S., M.S., American University of Beirut

Ph.D., Stanford University

1. "Minimal k-rankings for prism graphs", Juan Ortiz, Andrew Zemke, Darren Narayan, and Hala King, Involve: vol. 3 , No. 2, 2010.

2. "Determinants of Laplacians on the space of conical metrics on the sphere," Hala Khuri King, Transactions of the American Mathematical Society, vol. 339, No. 2, October 1993.

3. "Heights on the moduli space of Riemann surfaces with circle boundaries," Hala Halim Khuri, Duke Mathematical Journal, vol. 64, No.3, December 1991.