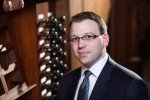 Joseph Peeples, M.M.
Adjunct Faculty Member
Joseph Peeples teaches applied organ and courses in music appreciation and keyboard harmony. He is an adjunct faculty member at Pepperdine University in Malibu, where he teaches courses in music theory and aural skills. Joseph also serves on the faculty of the annual Brigham Young University Organ Workshop in Provo, Utah, where he has taught courses on a variety of topics, including organ registration, organ literature, pedal technique, improvisation, and music theory. Before joining the faculty at CLU and Pepperdine, he taught a wide variety of courses in music theory and musicianship at the Indiana University Jacobs School of Music in Bloomington, Indiana and Brigham Young University.

Joseph has a great love for organ and sacred music and its unique power to bring people closer to Christ. He has been a church musician for 20 years, with substantial experience in congregational and choral accompanying. This experience includes being Organist of Speedway Christian Church (Disciples of Christ) in Speedway, Indiana and accompanying the nationally-recognized collegiate choirs of Brigham Young University. He currently serves as substitute organist for churches throughout the Los Angeles area.

Recently, Joseph performed at St. Michael's Episcopal Church (Charleston, South Carolina) as part of the L'Organo recital series of Charleston's annual Piccolo Spoleto Festival. He has also given recitals at St. Matthew's Lutheran Church and the Medical University of South Carolina in Charleston. He was a finalist in the 2014 Arthur Poister Scholarship Competition in Organ Playing and won second place in the 2009 AGO/Quimby Regional Competition for Young Organists, Salt Lake City Chapter.

Joseph recently completed doctoral coursework at the Indiana University Jacobs School of Music, where he studied organ with Janette Fishell and Christopher Young, improvisation and sacred music with Bruce Neswick, conducting with Walter Huff, and harpsichord with Elisabeth Wright. He received a Master of Music degree from Brigham Young University, studying organ with Don Cook and Doug Bush, conducting with Rosalind Hall, and carillon with Don Cook. He also received a Bachelor of Art degree from California State University Channel Islands in Camarillo, California.