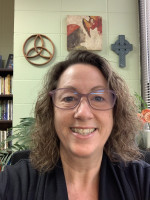 Leslie Veen, D.Min.
Director of Contextual Education
A native of Michigan and long-time resident of San Francisco, the Rev. Dr. Leslie Veen is the Director of Contextual Education where she oversees the programs that get the students out of the classroom and into ministry settings to practice what they are learning and to further develop their pastoral identity. Leslie has a deep love for helping students to grow in their faith in God and in their sense of call. When she is not living out her call at the seminary or church work, she enjoys the outdoors in the Bay Area running, hiking, walking, kayaking, or brunching with friends.

Among her work in theological education include overseeing five distinct programs including Teaching Parish, Cross Cultural Experience, Clinical Pastoral Education, Internship, and the Evangelism & Justice Concentration- as well as teach practice courses for the M.Div degree program, including evangelism and justice courses and Spanish for ministry. Prior to working with Pacific Lutheran Theological Seminary of California Lutheran University, she worked for four years as the director of field education at San Francisco Theological Seminary. The foundation of her work at PLTS of CLU includes advising students as they consider their vocational goals, finding field placements that will help students grow and stretch in their development as ministry leaders, connecting the seminary to the larger church through partnering with individual parishes for the different contextual education programs, and teaching the integrative seminar that accompanies the internship experience. She also has served on the Committee on Preparation for Ministry for the Presbytery of San Francisco and currently on the Candidacy Committee of the Northwest Washington Synod of the ELCA.

Bringing her dissertation to her service in contextual education, Leslie has a strong interest in the communal aspect that trinitarian theology brings to the broader religious culture. As Robert Bellah and Robert Putnam have shown, the dominant mainline culture in the United States of America has fully embraced rugged individualism as an important norm. This is in spite of being a largely Christian demographic that believes in a triune God whose very being is community. Religion and spirituality within this culture have also taken on an individualistic tendency. The social sciences have realized the dangers of focusing too narrowly on the individual in their own work and have reintroduced the concept of community in their work with individuals. The work in this field along with a reexamination of classic Trinitarian theology, which gave rise to the idea of the perichoretic union of the Trinity, in conversation with Womanist and Asian feminist theologies can be instrumental in reintroducing the importance of community into the fields of religious studies and spirituality.

Brief Professional History

Director of Contextual Education, PLTS (2013-)
Parish Associate for Mission Bay Community Church (2007-)
Director of Field Education and Placement, San Francisco Theological Seminary (2009-13)
Director of Vocational Formation and Placement, San Francisco Theological Seminary (2007-09)
Ordained Minister of Word and Sacrament in the Presbyterian Church, U.S.A. (April 2007)
Spanish Teacher, San Domenico Schools (1994-2000)

Select Special Service

Presbytery of San Francisco: Leadership Council, Communications & Meetings Working Group, New Church Development Administrative Commission
YWCA of Berkeley/Oakland, board member
SFTS CPE Program, board member

Interesting Tidbits
Leslie lives in the ever-bustling Lower Haight area of San Francisco with her dear companion Murphy the Cat.
Favorite Bible quote: "[Jesus said,] 'I came that they may have life, and have it abundantly." (John 10:10b).

D. Min., San Francisco Theological Seminary, dissertation title: "Practicing Perichoresis: Expanding the models of spiritual practices for ministers-in-training."
M.Div., San Francisco Theological Seminary
M.A. in Spanish and Latin American Literature, University of California, Santa Barbara
B.A. Calvin College, Spanish and Education

Book Review: Flanagan, Bernadette and Sharon Thornton, eds., The Bloomsbury Guide to Pastoral Care (London: Bloomsbury, 2014), 218 pp for the Journal of Reflective Practice, Vol. 35, May 2015.

Book Review: Paterson, Michael and Jessica Rose, eds., Enriching Ministry: Pastoral Supervision in Practice (London: SCM Press, 2014), 234 pp for the Journal of Reflective Practice, Vol. 37, May 2017.