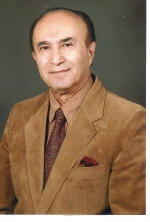 Mo A Sangeladji, Ph.D.
Adjunct Faculty Member
Professor Mo Sangeladji received his Ph.D. in accounting from University of Oklahoma in 1975. He taught 5 years at University of Texas, San Antonio before moving to California. He started his teaching as a full time Professor at CSUN in September 1979. He is certified public accountant (CPA), certified management accountant (CMA), certified cost analyst (CCA), and a Diplomat of the American Board of Forensic Accounting. He started his Accounting firm of M.A. Sangeladji in 1983. The firm has provided accounting and tax services to small and medium size clients.

After 30 years of teaching at CSUN, Dr. Sangeladji requested retirement from that university and became EMERITUS PROFESSOR at that institution. To continue his teaching services to students, whom he consider as his children, he began teaching as adjunct professor at California Lutheran University (CLU) in Fall 2007.

During 37 years of his teaching, Professor Sangeladji has taught over 10,000 students, whom today are successful accountants, managers, executive, employees, and above all trustworthy and ethical individuals.