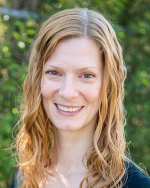 Theresa E. Rogers, Ph.D.
Assistant Professor of Biology
Dr. Rogers is a microbiologist whose research interests include microbial communities of mammalian and insect gut systems, bacterial degradation of polysaccharides, regulatory RNAs, bacterial response to oxidative stress, and antibiotic resistance. Her teaching interests include general microbiology, microbial ecology, molecular genetics, botany, and introductory biology.

During her postdoctoral fellowship at the University of Michigan, Dr. Rogers studied polysaccharide degradation by human intestinal symbionts of the genus Bacteroides. She also studied polysaccharide degradation by the microbial community in the larval hindgut of the aquatic crane fly, Tipula abdominalis, at the University of Georgia. Dr. Rogers earned her doctorate at the Ohio State University where she investigated a small RNA that modulates antibiotic resistance in the common food pathogen Bacillus cereus.

Prior to joining the CLU faculty, Dr. Rogers taught microbiology, introduction to environmental studies, and botany as a Visiting Assistant Professor at Alma College, Alma, MI.

Dr. Rogers is a faculty advisor for the Nursing Club, The League of Student Nurses, and co-advisor for the Biological Honors Society and Biology Club, Beta Beta Beta.

Postdoctoral Fellowship, University of Michigan, 2011-2012, Microbiology and Immunology

Ph.D., Ohio State University, 2010, Microbiology

M.S., University of Georgia, 2005, Microbiology

B.S., Ohio State University, 2002, Biology: Emphasis in Evolution, Ecology, & Organismal Biology

Microbiology, bacterial physiology, bacterial culture and characterization, antibiotic resistance, RNA biology, and molecular biology.



Bågenholm, V., Reddy, S.K., Bouraoui, H., Morrill, J., Kulcinskaja, E., Bahr, C.M., Aurelius, O., Rogers, T., Xiao, Y., Logan, D.T., Martens, E.C., Koropatkin, N.M., and Stålbrand, H. (2017) Galactomannan catabolism conferred by a polysaccharide utilisation locus of Bacteroides ovatus: enzyme synergy and crystal structure of a β-mannanase. Journal of Biological Chemistry, 292:229-243.


Rogowski, A., Briggs, J.A., Mortimer, J.C., Tryfona, T., Terrapon, N., Lowe, E.C., Baslé, A., Morland, C., Day, A.M., Zheng, H., Rogers, T.E., Thompson, P., Hawkins, A.R., Yadav, M.P., Henrissat, B., Martens, E.C., Dupree, P., Gilbert, H.J., and Bolam, D.N. (2015) Glycan complexity dictates microbial resource allocation in the large intestine. Nature Communications. 6:7481.


Larsbrink, J.*, Rogers, T.E.*, Hemsworth, G.R.*, McKee, L.S., Tauzin, A.S., Spadiut, O., Klinter, S., Pudlo, N.A., Urs, K., Koropatkin, N.M., Creagh, A.L., Haynes, C.A., Kelly, A.G., Cederholm, S.N., Davies, G.J., Martens, E.C., and Brumer, H. (2014) A discrete genetic locus confers xyloglucan metabolism in select human gut Bacteroidetes. Nature. 506:498-502. *Authors contributed equally.


Rogers, T.E., Koropatkin, N.M., Bell, J.S., Moya-Balash, M., Jasker, K., and Martens, E.C. (2013) Dynamic responses of Bacteroides thetaiotaomicron during growth on complex glycan mixtures. Molecular Microbiology. 88:876-890.


Rogers, T.E., Ataide, S.F., Dare, K., Katz, A., Seveau, S., Roy, H. and Ibba, M. (2012) A pseudo-tRNA modulates antibiotic resistance in Bacillus cereus. PLoS ONE 7(7): e41248.


Rogers, T.E., and Doran Peterson, J.B. (2010) Analysis of cellulolytic and hemicellulolytic enzyme activity within the Tipula abdominalis (Say) (Diptera; Tipulidae) larval gut and characterization of Crocebacterium ilecola gen. nov., sp. nov., isolated from the Tipula abdominalis larval hindgut. Insect Science. 17:291-302.


Banerjee, R., Chen, S., Dare, K., Gilreath, M., Praetorius-Ibba, M., Reina, M., Reynolds, N., Rogers, T., Roy, H., Yadavalli, S.S., and Ibba, M. (2010) tRNA: Cellular barcodes for amino acids. FEBS Lett. 584:387-395.


Ataide, S.F., Rogers, T.E. and Ibba, M. (2009) The CCA anticodon specifies separate functions inside and outside translation in Bacillus cereus. RNA Biology. 6:479-487.


Cook, D.M., Henriksen, E.D., Rogers, T.E., and Peterson, J.D. (2008) Klugiella xanthotipulae gen. nov., sp. nov., a novel member of the family Microbacteriaceae. Int. J. Syst. Evol. Microbiol. 58:2779-2782.


Ataide, S.F., Wilson, S.N., Dang, S., Rogers, T.E., Roy, B., Banerjee, R., Henkin, T.M., and Ibba, M. (2007) Mechanisms of resistance to an amino acid antibiotic that targets translation. ACS Chemical Biology 2:819-827.


Prætorius-Ibba, M., Hausmann, C., Paras, M., Rogers, T.E. and Ibba, M. (2007) Functional association between three archaeal aminoacyl-tRNA synthetases. J. Biol. Chem. 282:3680-3687.


Prætorius-Ibba, M., Rogers, T.E., Samson, R., Kelman, Z. and Ibba, M. (2005) Association between archaeal prolyl-and leucyl-tRNA synthetases enhances tRNAPro aminoacylation. J. Biol. Chem. 280:26099-26104.



2015. W.M. Keck Foundation Undergraduate Education Grant Program.