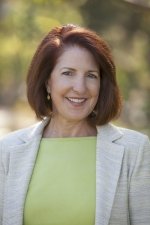 Therese S. Eyermann, Ph.D.
Distinguished Faculty Fellow of Educational Leadership
Dr. Eyermann teaches in the Educational doctoral program at California Lutheran University where she resides as the Distinguished Faculty Fellow. She currently teaches the Higher Education Administration and Quantitative Research Methods courses. Prior to that she served as Chief of Staff to the President, and was also Interim Operations Officer for Advancement at California State University Channel Islands. In this role she provided high-level research, policy, and organization support to help with the planning and operation of the university. She also oversaw the Institutional Effectiveness Office and provided strategic direction, utilizing data to benchmark key academic & performance indicators. She has been involved in the University's Strategic Planning, the Ventura County Regional P-20 Council, and the Partnering Community Colleges and Universities Collaborative.
Dr. Eyermann also served as the Executive Assistant to the Executive Vice Chancellor at UCLA. While there she helped UCLA address a variety of issues including community partnerships, gender equity, and university wide strategic planning. Prior to that, she held higher education positions in a national policy think tank, as well a positions in institutional research, enrollment management, and financial aid. She has worked as a financial aid consultant for public and private institutions.
Dr. Eyermann earned her doctorate in Higher Education and Organizational Change from UCLA. Her research interests are in the area of higher education policy as it relates to financial aid and in issues of equity and access for diverse populations.
Ph.D., in Higher Education and Organizational Change, University of California, Los Angeles.
Master of Arts, in Higher Education, University of California, Los Angeles.
Bachelor of Science, in Psychology, Missouri State University, Springfield, Missouri.
Eyermann, T., Carpenter, A. (2013). Self-regulation and academic achievement predictors of community college students enrolled in a cooperative baccalaureate degree program. Journal for Applied Research in Community Colleges 20(2) 1-11.
Rush, R. R. (with Eyermann, T. S.) (2010) Are our faculty ready for community engagement? Are we?AASCU Public Purpose Magazine, (March – April), 28.
Rush, R. R. (with Eyermann, T. S.) (2007). Boys, the New Minority in Higher Education. AASCU Public Purpose Magazine, (June-August), 6 – 8.
Eyermann, T. S. & Kim, D. (2006). Undergraduate borrowing and its effects on plans to attend graduate school: Prior to and after the Higher Educational Amendments of 1992. Journal of Student Financial Aid, 35(2).
Eyermann, T. S. & Sanlo, R. (2000). Documenting Their Existence: Lesbian, Gay, and Bisexual Students in the Residence Halls.In R. Sanlo, S. Rankin, & R. Schoenberg, Our Place on Campus: The Development and Maintenance of LGBT Centers. Westport, CT: Greenwood Press.
Goldschmidt, P & Eyermann, T. S. International Educational Performance of the United States: Is there a problem that money can fix? Journal of Comparative Education, 35(1),27-43.
Bank of American Foundation supporting the P-16 Council Summer Engineering Design Career Pathway Summer Program at CSU Channel Islands. $15K Summer 2011; $13K Summer 2013; $10K Summer 2014.
Title V Part A: Developing Hispanic-Serving Institutions.Conceptualization and writing team member for Project ISLAS (Institutionalizing Student Learning, Access and Success) $3.25M. October, 2010.
ARCHES (Alliance for Regional Collaboration to Heighten Educational Success) Implementation Grant. Conceptualization and writing team member in soliciting $125,000 implementation grant for the Hueneme High School