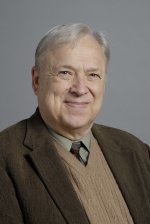 Ted Peters, Ph.D.
Distinguished Research Professor of Systematic Theology
I define "The Gospel" as telling the story of Jesus with its significance. Our task in this third millennium is to tell this story in such a way that the people of our emerging post-modern culture will perceive its significance for them.
Brief Professional History
PLTS, 1978–
Associate Professor, Loyola University
Assistant Professor, Newberry College
Pastorates in Illinois and New York
Select Special Service
GTU:
Core Doctoral Faculty
Convener for Systematic and Philosophical Theology
Appointments and Review Committee
Research Professor at the Center for Theology and the Natural Sciences
2009 Martin E. Marty Professor of Religion and the Academy, St. Olaf College
Church:
Member ELCA Task Force on Genetics for 2011 Churchwide Assembly
Speaker at the 2007 ELCA Convocation of Teaching Theologians
Recipient of the Fredrik Schiotz Distinguished Presidential Fellowship, 1984
Community:
Member of the Scientific and Medical Accountability Standards Working Group of the California Institute for Regenerative Medicine
Consultant and research presenter for the Islamic Organization of Medical Sciences
DHL, Wittenberg University (USA) and Lund University (Sweden)
MA and PhD, University of Chicago
MDiv, Trinity Lutheran Seminary
BA, Michigan State University
Books Authored/Co-Authored:
with Karen Lebacqz and Gaymon Bennett, Sacred Cells? Why Christians Should Support Stem Cell Research. Roman and Littlefield, 2008.
The Evolution of Terrestrial and Extraterrestrial Life: Where in the World is God? Pandora Press and the Australian Theological Forum, 2008.
The Stem Cell Debate. Fortress Press, 2007.
Anticipating Omega. Vandenhoeck & Ruprecht, 2006.
with Martinez Hewlett, Can You Believe in God and Evolution? Abindgon 2006.
with Martinez Hewlett, Evolution: From Creation to New Creation. Abingdon 2003. Templeton Book of Distinction Award 2005.
Science, Theology, and Ethics. Ashgate, 2003.
Playing God? Genetic Determinism and Human Freedom. Routledge, 1997, 2nd ed. 2002. Templeton Book of Distinction Award, 2003.
GOD—The World's Future: Systematic Theology for a Postmodern Era. Fortress Press, 1992; 2nd edition, 2000. Korean translation by Se-Hyoung Lee, Concordia-Sa, Seoul, Korea 2006.
For the Love of Children: Genetic Technology and the Future of the Family. Westminster/John Knox Press, 1996
Sin: Radical Evil in Soul and Society. Wm. B. Eerdmans, 1994
God as Trinity: Relationality and Temporality in Divine Life. Westminster/John Knox Press, 1993. Translated into Korean
Co-Edited:
Journals:
Program Director, CTNS Science and Religion Course Project, 1998–2002. John Templeton Foundation ($16,600,000)
Project Director, CTNS-Templeton Foundation University Lectures, 1995–1999; series one and two ($375,000)
Principal Investigator, "Theological Questions Raised by Human Genome Initiative," National Institutes of Health grant HG00487, at CTNS, 1991–1995 ($450,000).
Research, "Religion, Culture and Family Project," University of Chicago. Lilly institutional grant, at PLTS 1993–1994 ($30,000).