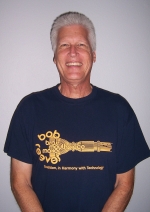 Bill Barrett
Adjunct Faculty - Trumpet
Bill Barrett has played with a variety of musical groups and performers. Some of the groups he has played in include the Glenn Miller Orchestra, Harry James Orchestra, Bill Tole Big Band, Gary Tole and The Legends of Swing, Dean Mora and his Modern Rhythmists, Ralph Carmichael Big Band, Billy Vaughn Orchestra, Tex Beneke and the Sounds of Glenn Miller, and Holland America Cruise Line.

He has also played with Steve Allen, Milton Berle, Jerry Lewis, Merv Griffin, Redd Fox, Ray Charles, Smothers Brothers, Frankie Valley just to name a few. He's played in the Burbank Symphony, Carson Symphony, Santa Barbara Symphony, Symphony in the Desert, (Palm Springs), and Conejo Symphony.

Bill is currently first trumpet with the "Hour of Power" television program and principal trumpet with Cabrillo Theater here in Thousand Oaks. He teaches privately, and continues to freelance and record with a variety of groups.