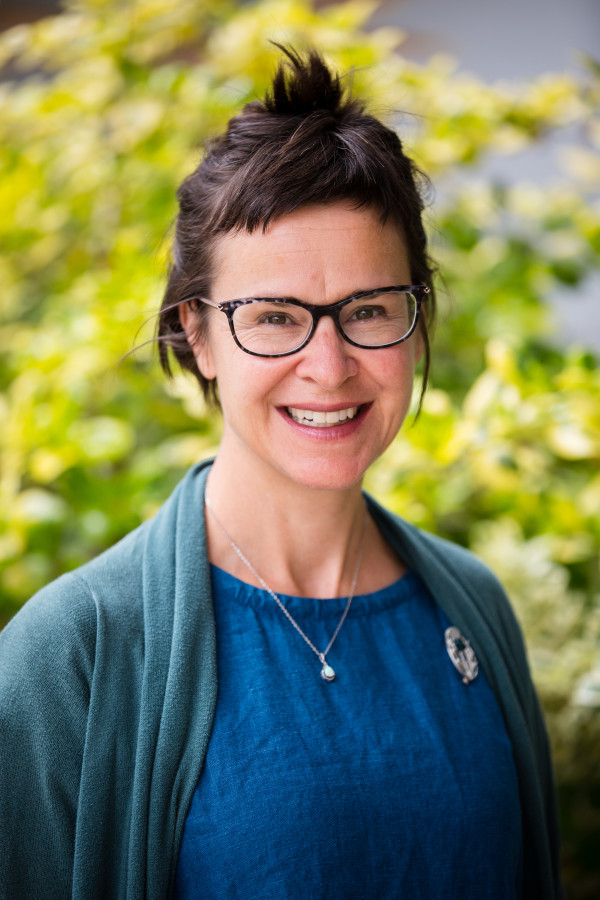 Colleen Windham-Hughes, Ph.D., M.Div.
Professor
she/her(s)
About
Colleen Windham-Hughes teaches in two primary areas: Religion and Public Life and Practical Theology. In both areas she leads students in Academic Service Learning, in which students prepare academically, engage in service on and off campus, and reflect on deep connections between thinking and doing. Dr. Windham-Hughes collaborates with faculty, staff, and students on projects related to vocation and interfaith. She has written for the Practice Discipleship initiative of the ELCA and supervises student interns in the Theology and Christian Leadership program.
2022
"As secular as could be: the WORLD is the place of vocation," Departmental Exploration and Examination of Purpose, Roanoke College, Virginia (virtual).
"The Spirituality of Trees: Responding with Awe, Action, and Gratitude," Holy Trinity Lutheran Church, Thousand Oaks.
Published with co-authors in 2020: Catholics and United Methodists Together
Recent presentations include:
"Faith Formation in Religious Diversity," Network for Children, Youth, and Families, Jacksonville Florida, January 24-25, 2019
"Expecting the Common Good: On the Cooperation of Persons in the Interfaith Classroom," American Academy of Religion, Boston, November 18-21, 2017
"An Other, Deeply Christian" and "Forward One Another in Love," Official Dialogue of the United States Conference of Catholic Bishops and the United Methodist Church, December 2015 in Washington, D.C. and May 2016 in Collegeville, MN.
Campus Colloquia for Interfaith Studies, Fall 2015
"Becoming a better reflection of our neighborhoods and the communities we serve"; "Becoming more culturally compentent/culturally humble and anti-racist"; and "Becoming able and willing to share stories of Jesus," Sierra Pacific Synod Assembly, 2015.
Panelist: "Toward a Field of Interfaith Studies," American Academy of Religion, San Diego, CA, November 2014.
"Not by Bread Alone" and "Our Daily Bread," Grand Canyon Synod Assembly, 2014.
"Mashup Mission: Faithfulness Across Generations," Founders Day at Pacific Lutheran Theological Seminary, 2013.
"Deeply Rooted, Bearing Fruit," Rocky Mountain Synod Assembly, 2013. http://vimeo.com/68979559
Practice Discipleship:
"Living in Stories," Detroit, MI, January 2015: https://www.youtube.com/watch?v=nRGEou1uVmI&index=3&list=PL4qvjz2KkASPmmtXev9E2ElCYlxC8DRkq
"Framing Failure with Forgiveness," St. Louis, MO, January 2014: https://www.youtube.com/watch?v=mgTRV3-8gB8&index=7&list=PL4qvjz2KkASPmmtXev9E2ElCYlxC8DRkq
"Inculturating the Gospel," Anaheim, CA, January 2013: https://www.youtube.com/watch?v=vp7kVLQGpoE&index=12&list=PL4qvjz2KkASPmmtXev9E2ElCYlxC8DRkq
Sermons @ CLU:
"Entry and Expulsion" http://www.callutheran.edu/university_ministries/campus-ministry/worship/chapel_podcast.php?episode=148
"Seeking Peace in Exile" http://www.callutheran.edu/university_ministries/campus-ministry/worship/chapel_podcast.php?episode=85
Education
Ph.D. in Religious Studies, University of California, Santa Barbara, 2010
M.Div., Claremont School of Theology, Claremont, CA, 2001
B.A., Theatre History and Dramatic Criticism, Whittier College, CA, 1996
Expertise
Dr. Windham-Hughes is an expert in Religion and Public Life. She treats legal constraints of the practice of religion and tends to civic relationships among religious and non-religious people. In this, Dr. Windham-Hughes is particularly attentive to articulation and clarification of values.
As Director of the program in Theology and Christian Leadership Dr. Windham-Hughes works with students, congregations, and community organizations to develop internship experiences.
Dr. Windham-Hughes's dissertation, "The Horizon of Birth," brings together philosophical inquiry into existence, theology, and political participation. In addition, Dr. Windham-Hughes teaches courses in Christian thought, religion and modernity, and religion in culture.
Publications
With co-authors in 2020: Catholics and United Methodists Together
"Deep Roots, Big Questions, Bold Goals," in Intersections, no. 49, Spring 2019
"Toward a Field of Interfaith Studies: Emerging Questions and Considerations," with Jeanine Diller, Eboo Patel, and Jennifer Peace. Journal of Interreligious Studies, March 2015
http://irdialogue.org/journal/
"Relational and Procedural Literacies in the Study of Religion," in Civility, Religious Pluralism, and Education, eds. Vincent F. Biondo and Andrew Fiala. Routledge, 2014.
http://www.routledge.com/books/details/9780415813990/
"Education," in Religion and Everyday Life and Culture, Volume Two, eds. Richard D. Hecht and Vincent F. Biondo. Santa Barbara, CA: Praeger, 2010.
reprinted: http://store.fortresspress.com/store/product/16984/Religion-and-Culture-Contemporary-Practices-and-Perspectives
Grant Funding
Dr. Windham-Hughes was principal investigator of the Teagle Grant to develop Interfaith Studies. At California Lutheran University, we have the unique opportunity to lift the banner of Interfaith Studies through the practices of experiential learning -- a strategic initiative of our university to engage students in thoughtful preparation, conscientious application, and critical reflection.
Interfaith Studies requires interpersonal interaction between people who are different and must hold as one of its goals assistance in developing and sustaining relationships across difference. Such skills are important, not only to the development of character but also to the development of leaders who are able to lead with global awareness in local settings.
2015 marked the successful completion of the NetVUE grant for Co-Curricular Collaboration for Vocation in Undergraduate Student Experience 2012-14. Through this initiative staff and faculty work together to identify core commitments to vocation in Lutheran higher education; explore and narrate personal vocation alongside institutional vocation; and plan experiences in vocational exploration with students.