Onward
The School of Management Newsletter
---
Dean's Message
March 2018
Hello from the School of Management!

Continuous improvement is one of the most important activities in higher education. As the industry and societal environments around us constantly change, we must change. The School of Management therefore engages in a variety of ongoing and periodic processes including course evaluations, faculty assessments, program reviews, and many more. It also is important for us to understand how our alumni feel about their education at the School of Management, and how it has influenced their careers. We are planning to start a regular alumni survey, which also will help us to improve our course and program offerings. As one of our valued alumni, you may be selected to participate in such an online survey, and I hope that you will help us by participating in the survey. I promise that it will not take too much of your time and that we will listen to your feedback.

I sincerely hope that you enjoy this issue of Onward. Good things are happening, and it becomes increasingly challenging to select news from an ever-increasing spectrum of noteworthy activities at the School of Management – definitely a happy problem to have! As in previous editions, allow me also to point you to the selection of upcoming School of Management events at the bottom of this newsletter (full and current listings can be found on our Events page on our website where you can also find our social media directory). Come and stay connected with us and keep current with what is going on at the School of Management!

Onward and Upward!
Gerhard Apfelthaler
Dean, School of Management
Recent News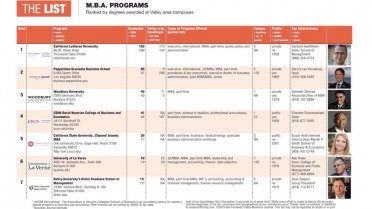 This month the San Fernando Valley Business Journal published its annual list of MBA programs in the region and we are proud to report that the Cal Lutheran MBA was ranked #1.