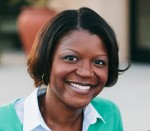 Tanisha DuBransky, Ph.D.
Lecturer (Psychology)
Tanisha DuBransky began teaching at CLU in Spring 2011. Dr. DuBransky's primary teaching, research, and professional interest is psychology in postsecondary environments. She is also interested in the work-family interface among students and faculty, marriage and family education, parent education, and human development. She has 15 years of experience in higher education and is is very familiar with the characteristics, needs, and expectations of adult learners. She explored the practices and perspectives of employed graduate student mothers in her doctoral research.

Dr. DuBransky is clinically trained in psychotherapy, assessment, planning, and intervention. During her clinical psychology graduate program, she developed and facilitated psychoeducational groups for children at a special education therapeutic day school. She also facilitated groups for adults at an inpatient residential treatment center. She has taught courses in College Success, Lifespan Human Development, Social Psychology, Gender Roles, Understanding Emotions, and Applied Psychology Practicum at California Lutheran University, California State University Channel Islands, Santa Barbara City College, and College of the Canyons.

In addition to teaching and research, Dr. DuBransky is actively involved in her professional community. She is a member of the Parent and Family Coach Exploratory Committee and serves as an editorial board member for a parenting organization.

Ph.D., Education, University of California Santa Barbara, 2014
Emphasis: Leadership and Organizations
Dissertation: Employed Graduate Student Mothers: The Benefits, Challenges, and Perspectives of Women Fulfilling Student, Parent, and Worker Roles

M.A., Education, University of California Santa Barbara, 2013

M.A., Clinical Psychology, Pepperdine University, 2006
Emphasis: Marriage and Family Therapy

B.S., Psychology, Sam Houston State University, 2003
Minor: English (Professional and Technical Writing)

Cruise, K.R., Fernandez, K., McCoy, W.M., Guy, L.S., Colwell, L.H., & Douglas, T.R. (2008). The influence of psychosocial maturity on adolescent offenders' delinquent behavior. Youth Violence and Juvenile Justice Journal, 6(2), 178-194.

Presentations

DuBransky, T. (forthcoming 2015, March). Graduate students managing work and family roles. Paper presentation at the Women and Leadership: Work-Life Balance Conference, Los Angeles, CA.

Cruise, K., Hall, H., Amenta, A., & Douglas, T.R. (2002, March). Psychosocial maturity study I: A preliminary report of the association with self-report of delinquent behavior. Poster co-presenter at the annual meeting of the American Psychological-Law Society, Austin, TX.