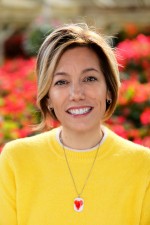 Diane Rodriguez-Kiino, Ph.D.
Assistant Professor of Educational Leadership
Dr. Rodriguez-Kiino is an assistant professor of Higher Education Leadership at California Lutheran University, where she teaches and advises doctoral students committed to executive leadership in postsecondary education. Prior to CLU she served as the Director of Campus Diversity in the President's Office of Santa Barbara City College, and she continues to consult and lecture on the issues of campus diversity and equity. She is a respected and successful grant writer and evaluator, and has published on topics covering transfer students, women, and students of color in education. She currently serves as a senior researcher for the Research and Planning Group for California Community Colleges. During the 2014-2015 academic year, Dr. Rodriguez-Kiino has been teaching courses on diversity in American higher education as a Fulbright Scholar in Japan.

She holds an M.Ed. in College Student Personnel Services and a Ph.D. in Education Policy with an emphasis on International Intercultural Education from the University of Southern California.