Communication
Offered as a major (B.A.) and a minor
Communication is a broad field with increasingly diverse opportunities created by the advent of the digital age.
The study of communication is relevant in every industry and endeavor—especially in today's dynamic media environment.
Gain practical skills
The program combines the study of communication theory with the development of practical skills—including a vibrant internship program. You will learn to carry out research about media issues, develop media-related projects, and critically evaluate media messages and effects.
Specialize in your area of interest
In addition to gaining a comprehensive background in mass media and communication theory, you will also have the opportunity to emphasize in the areas of:
Advertising and public relations
Film and television production
Journalism (print and online)
Put your learning into practice
Through special courses, on-campus positions, and internships, you'll get to put what you learn into practice. These include opportunities to:
Produce your own radio show on iCLU
Write a column for the award-winning Echo newspaper
Produce and implement an advertising campaign
Get invaluable career-building experience
You will be required to complete an internship. This invaluable career-building experience allows you to interact with professionals in the field. Organizations that our students have worked with include:
J.D. Power & Associates
Sage Publishing
Disney
Warner Brothers
Edelman Public Relations
Los Angeles Kings
Soul Pancake
Join a professional community
Start growing your professional network by participating in organizations such as:
Public Relations Student Society of America
Society of Professional Journalists
Lambda Pi Eta (National Communication Association's official honor society)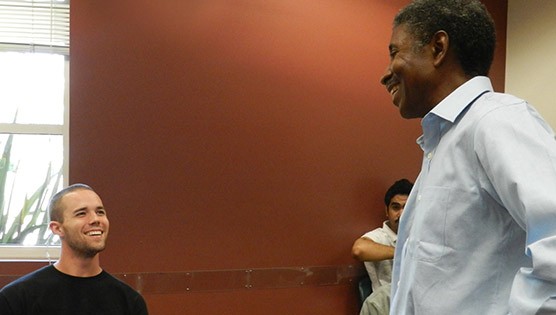 I think one of the most important tools in helping students discover and live their purpose is getting them to understand not to take their experiences for granted. In teaching critical thinking, we often privilege this action as questioning but it can be a part of the creative process, too. As the British writer Neil Gaiman said, 'You can take for granted that people know more or less what a street, a shop, a beach, a sky, an oak tree look like. Tell them what makes this one different.'

Russell Stockard
Professor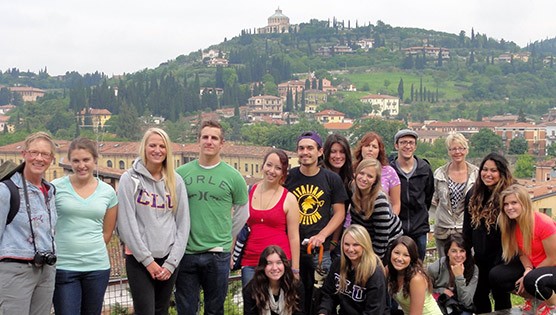 Dr. Pagliassotti and Professor Spehar-Fahey lead a Travel Seminar to Venice every other year. Imagining Venice covers a range of topics about the one-time republic, with a special focus on its place as a symbol within the cultural media and artifacts of the Western world.
Travel not only teaches you about other cultures, but also about yourself. When I take my students abroad, all I can do is put their feet on the road. After that, each student's journey will be unique.

Dru Pagliassotti
Professor
Because of our internship programs, contacts in the professional world, and the excellent support of Cal Lutheran Career Services, the placement rate for communication majors is quite impressive.
Recent graduates have taken rewarding jobs in a variety of fields. These include market research, public relations, and broadcasting.
Our alumni study at:
George Washington University
New York University
University of Southern California
Fashion Institute of Design
University of California, Los Angeles,
University of Surrey (UK)
University of California San Diego
They work for:
ABC Television
ESPN Radio
Four Seasons Hotel & Resorts
Fox Sports
NBC Universal
Sony Pictures
Time Magazine
Warner Brothers
City of Simi Valley
Career paths:
Account Executive
Community Service Coordinator
Marketing/Sales Coordinator
TV Development Assistant
Sales Consultant
Advertising Copywriter
Radio DJ
Production Manager
Public Relations Specialist
Market Researcher
Human Resources Rep.