Communication
Offered as a major (B.A.) and a minor
A communication major permits you to individualize your degree, either in order to explore subjects of personal interest or to prepare for a unique career objective.
Whichever your concentration, you will acquire the tools to frame effective messages in a wide variety of media and platforms.
What can you do with a communication degree? Job applicants today must have the tools to frame effective messages in a wide variety of media and platforms. To that end, not only does the Communication Department at Cal Lutheran offer a broad array of mass communication courses but requires that its graduates demonstrate proficiencies in writing, speaking and media production, requires at least one internship, and lays out a unique core curriculum that equips graduates with a background in mass media history, media writing and communication theory. The department boasts an award-winning student newspaper, The Echo, and a campus-wide cable radio station and student news program.
A degree in communication with a concentration in advertising and public relations, film and television production or journalism specified on the diploma is the choice of students who wish to specialize in a field. The general communication major, on the other hand, permits students to individualize their degrees, either in order to explore subjects of personal interest or to prepare for a career objective other than the concentration areas.
In addition to regular course work, at least one cooperative education experience or senior project is required of each communication graduate. Many students choose to add a variety of media projects, internships, part-time employment, or field experience to their résumés. Cal Lutheran students have recently interned in top tier TV and radio stations, newspapers, and marketing departments for companies including Disney, J.D. Power, and Warner Brothers.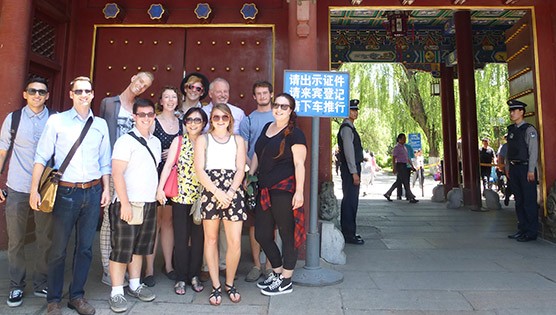 In 2014, Professors Ryan Medders and Debby Chang led students on a Travel Seminar to China. The course integrated authentic Chinese material with an exploration of its history, philosophies, religions, values, customs, and media.
Taking action is the best way to help you discover your purpose. For example, by participating in a travel seminar students have the opportunity to make a positive difference in their community and the world.

Ryan Medders
Assistant Professor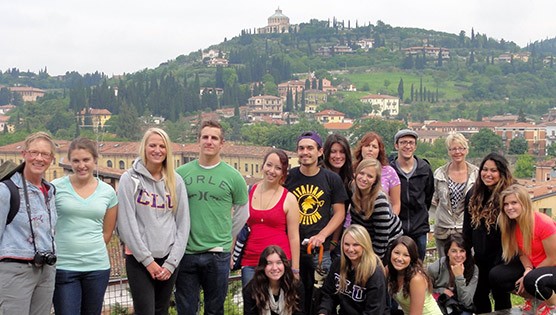 Dr. Pagliassotti and Professor Spehar-Fahey lead a Travel Seminar to Venice every other year. Imagining Venice covers a range of topics about the one-time republic, with a special focus on its place as a symbol within the cultural media and artifacts of the Western world.
Travel not only teaches you about other cultures, but also about yourself. When I take my students abroad, all I can do is put their feet on the road. After that, each student's journey will be unique.

Dru Pagliassotti
Professor
Because of our internship programs, contacts in the professional world and the excellent support of the Career Services Center, the placement rate for Cal Lutheran communication majors is quite impressive. Recent graduates have taken rewarding jobs in public relations, human resources, media market research, education, publishing, radio, television, or have entered graduate school.
Our alumni study at:
George Washington University
New York University
University of Southern California
Fashion Institute of Design
University of California, Los Angeles,
University of Surrey (UK)
University of California San Diego
They work for:
ABC Television
ESPN Radio
Four Seasons Hotel & Resorts
Fox Sports
NBC Universal
Sony Pictures
Time Magazine
Warner Brothers
City of Simi Valley
Career paths:
Account Executive
Community Service Coordinator
Marketing/Sales Coordinator
TV Development Assistant
Sales Consultant
Advertising Copywriter
Radio DJ
Production Manager
Public Relations Specialist
Market Researcher
Human Resources Rep.