English
Offered as a major (B.A.) and a minor
Studying English is about much more than reading and writing; it's a doorway into a realm of career opportunity and creative expression that lasts a lifetime.
English is an ideal major for careers that require skills in critical thinking, reading, and communication, as many businesses and professional schools prefer the well-rounded training that the program provides.
Cal Lutheran's English Department faculty maintain a high level of instructional integrity, involve themselves with their students in first year writing through upper division courses, and encourage students to present their research and creative work at local, regional, and national undergraduate conferences.
The English curriculum sharpens critical thinking, reading, and communication skills and promotes an appreciation for literature, making English an ideal major for students interested in careers that require these skills. Our majors enter a broad range of fields, including teaching, law, business leadership, nonprofit development, political advocacy, publishing and content development, public relations, marketing and advertising, film, new media, the ministry, and library and information science.
Majors can compete for paid positions that offer them opportunities to build their teaching and leadership skills and gain insight into the learning process. These include departmental assistantships, internships, Writing Center tutors, Editor-in-Chief and Assistant Editor of Morning Glory, and Academic Advising and Learning Resource Center tutors.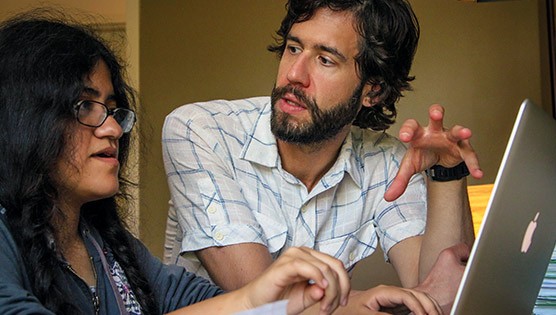 Ideas have a life. When the life of ideas connects to the individual lives and experiences of students, I remember that ideas aren't just abstractions. To remember that is to remember why I got into this business in the first place.

Bryan Rasmussen
Associate Professor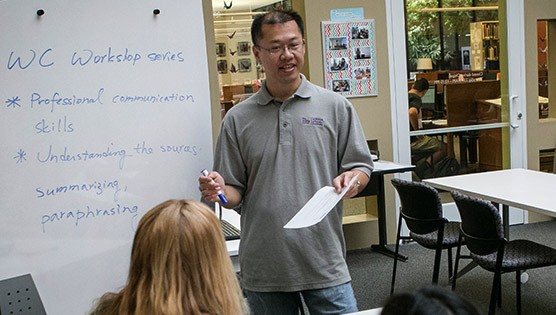 When mentoring students in research projects, it's the beyond-the-classroom context that allows creating a long-term collaborative relationship between the students and me. So, I can wear the many different hats of a teacher to support the students and share a greater perspective on the significance of their projects with them.

Scott Chiu
Assistant Professor
Many businesses and professional schools prefer the well-rounded training of an English major to the specialized focus of a pre-professional major.
For those considering a career in education, the department offers a major tailored for the California single-subject credential. The department also offers a writing concentration for students who want to pursue an MFA or a career in professional writing.
Our alumni study at:
Goldsmiths, University of London
Trinity University, Dublin
University of California, Los Angeles
Antioch University
Boston College
Arizona State University
Emerson College
American University in Cairo
They work for:
Creative Media Marketing
Dole Food Company
ELCA Division for Global Mission
J.D. Power & Associates
Sage Publications
The Trevor Project
Louisville High School
Peace Corps.
Career paths:
PR Account Coordinator
Consumer Response Specialist
Online Operations Manager
Research Supervisor
Media Research Associate
Executive Assistant
Magazine Editor
Teacher