Chemistry
Offered as a major (B.A. or B.S.) and a minor
Chemistry is the core science—the study of the properties, composition, and changes that occur in matter.
When you study chemistry, you analyze issues that influence every aspect of life on Earth.
Which degree is right for you?
We offer two degrees, each backed by a strong curriculum that will give you the knowledge base you need to successfully pursue the discipline.
Bachelor of Science – If you are targeting a career in industry or planning to attend a graduate program.
Bachelor of Arts – If you are seeking work in medicine, dentistry, or secondary school teaching.
Extensive laboratory work
Throughout your courses, you will regularly work with the modern instruments in our campus laboratories. This equipment includes Fourier transform infrared and nuclear magnetic resonance spectrometers, gas chromatographs with several types of detectors (mass spectrometer, electron capture, flame ionization), and a rapid-scan UV-Vis spectrometer.
Design your own experiments
You will be taught how to design and carry out your own experiments and be encouraged to work on independent research projects, as well as do supported research with faculty members during the summer.
Internships strengthen your experience
We encourage you to pursue internships and undergraduate research programs during the course of your studies. Recently, students have interned at the Ventura County Crime Lab, Amgen, and the Rockwell Science Center. They have also attended research programs at Colorado State and SUNY Stoneybrook.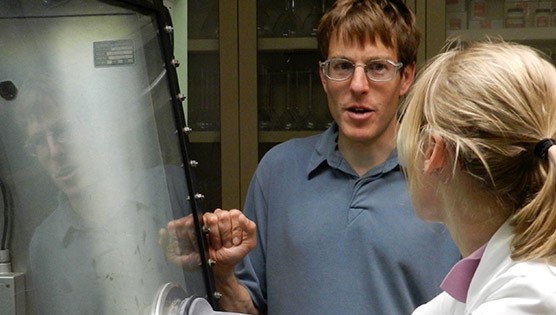 In the natural and physical sciences, a vital strategy in helping students discover their purpose is to present scenarios in which they can experience the exhilaration of discovery. The moment a young researcher detects that he or she has made a contribution to the unknown—however incremental—the student becomes impassioned and will immediately begin crafting the next logical experiment.

Jason Kingsbury
Assistant Professor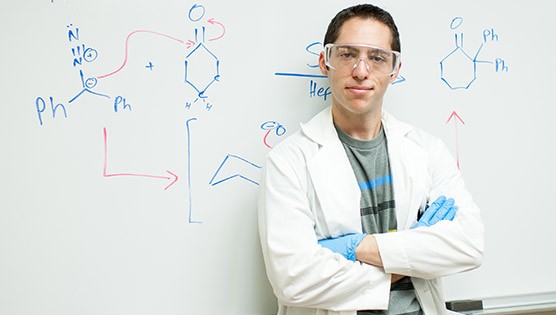 Working with Dr. Kingsbury has been eye-opening, to say the least. Every day has been an adventure in learning all the advance techniques professional chemists employ in expertly manipulating materials. My experience has grown greatly since the start of my research endeavors.

Jacob Burman '15
Our chemistry program has a 100% placement record into graduate schools, many of them being among the nation's most-respected medical, dental, and graduate programs.
Those not attending graduate school or becoming teachers begin their careers with jobs in such fields as environmental controls management, geochemistry, consumer products research, drug discovery, toxicology, and forensic chemistry.
Our alumni study at:
Boston University
University of Birmingham (England)
University of California, Riverside
University of California, San Diego
University of Colorado Health Sciences Center
University of Notre Dame
University of Oregon
University of Rochester
They work for:
Baxter International Inc.
BioSource International
Cosmetic Technologies
Fruit Growers Laboratory
NuSil Technology
Unity Lab Services
Valley Veterinary Clinic
Career paths:
Chemical Technician
Chemist
Production Associate
Quality Control Analyst
Quality Control Chemist
Supervisor, Veterinary Clinic
Teaching Assistant