Effective communication is essential in every field.
The deciding factor in your success may come down to how clearly you can convey your message. By becoming a strong communicator, you'll be a step ahead.
What you'll study
You'll start by analyzing mass media's role in society before learning how to write compelling copy for those media. You can then explore your own area of interest, such as film and television production, public relations, and sports marketing. Finally, you'll complete an internship related to your career goals, giving you a chance to hone your skills through real-world experience.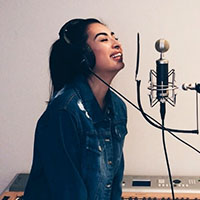 Something special about the communication minor program is how incredible the faculty is and how you're able to truly gain hands-on experience. I've learned a lot about the radio industry, the world of podcasting, communication theories, and journalism/media writing. I've been able to have my own weekly radio show and produce my own podcast. I also created the official jingle for iCLU Radio that is currently on air!
Tatiana Gabrielle '22
Music Production Major
---
Popular Major Pairings