Help Others Achieve Their Financial Goals
Financial planners provide advice about budgeting, insurance, investments, tax management, retirement and estate planning to help clients attain and maintain financial stability.
What You'll Study
This minor is ideal for business and non-business majors. In this five-course (20 credit unit) program, you'll gain the professional skills required to develop comprehensive financial, investment, estate and tax plans. The minor program also fulfills the education requirements to be eligible for the exam portion of the of the Certified Financial Planner (CFP®) designation—the gold standard in this profession.
Get Hands-On Experience
From in-class projects to guest speakers, you'll obtain a wide understanding of financial planning elements such as tax management, insurance, and retirement planning. You'll also have the opportunity to join our Financial Planning Association Chapter to network with fellow peers and learn how financial planning affects your personal life.
Obtain a Master's in Financial Planning
Additionally, if you are interested in obtaining a graduate degree one day, this program prepares you for our Master's Degree in Financial Planning program. As a student in this minor program, you can apply for the California Lutheran University Financial Planning Scholarship. Established together with the CFP® Board, you can earn up to $5,000 to help cover some of your tuition costs!
Financial Planning Advisory Council
The CFP® Board is a nonprofit professional regulatory organization that requires education, ethics requirements, examination, and experience for CERTIFIED FINANCIAL PLANNER® certificants. Along with completing the financial planning coursework and passing the CFP® Certification Examination, the CFP® Board also requires successful CFP® certificants to have financial planning-related work experience and adhere to their Code of Ethics and Professional Responsibility.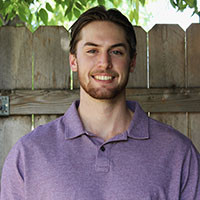 What interested me in the Financial Planning minor is the ability to help and build relationships with clients, as well as the strong work-life balance planners can have throughout their careers. In my courses, I get to focus on real life situations and case studies that I can easily apply to in the real world setting.
Zachary Bullard '21
---