What Does It Take to Call a Place a Home?
A Conference on Undocumented Immigrants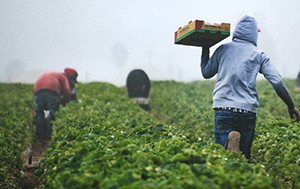 This conference presented a comprehensive socioeconomic profile of undocumented immigrants on the central coast of California and their regional and statewide economic impacts in each of the two counties and statewide.
Attendees watched a short video of a visit by a group of students and faculty to migrant shelters in Tijuana, Mexico. Center for Economics of Social Issues colleagues also presented perspectives of transitory migrants as they navigate their lives in transit, and share some of the findings of interviews carried out by our students under their professors' supervision.
Specialists from both Mexico and the United States shared their views and research findings on various pertinent social, economic and legal issues of undocumented immigrants and their challenges before and after settling. exploring these important topics and gaining valuable insights into what it takes to call a place home.
---
Watch The Full Coverege of the Event!
Explore important topics and gain valuable insights into the hidden undocumented immigrants in our community.
---
Take a look at the slideshows that were presented!
---
Keynote Speaker
President of the Centre for International Cooperation and Public Management Studies (CECIG)
Panelists
CHRO, Reiter Affiliated Companies
CEO, Farm Bureau of Ventura Country
Executive Director, The Jus Semper Global Alliance
Santa Paula Policy Advocate, CAUSE
Presenters
Professor, Sociology at Cal Lutheran University
Program Director, MPPA
Professor & Director, Economics and Executive Director CESI
Students Speakers
Lead Intern for Gender and Sexuality at the Center for Cultural Engagement and Inclusion
MPPA Student
Sponsors
---
CESI
Center for Economics of Social Issues