Cindy Lewis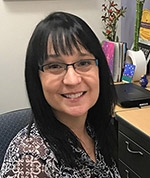 Director of Career Services
Book this person as a speaker:
Email: clewis@callutheran.edu
Phone: (805) 493-3199
Speeches:
Interviewing for Offers
An interactive workshop that prepares you for interviewing with employers. Topics will include traditional and behavioral questions and how to handle panel interviews. Don't let tough questions throw you off. Preparing and knowing how to sell your skills and uniqueness will also be discussed. Tips on securing an offer and how mock interviews can help you gain valuable practice on handling interview questions. We will also cover career portfolios and how to close the interview, including the thank you letter.

Salary Negotiations
Do you know what you're worth? Do you even know how to find out? Well, you're not alone. Learn something new and increase your value. Research your worth and know how to respond to salary requests without losing your negotiating power. You can research this topic all you want but practice is essential. Topics will include how to conduct salary research, references for employer/applicant discussions, and diversion/postponement tactics. Additional topics covered will include how to give an employer a salary range, salary history (BEWARE), and alternative forms of compensation (i.e. medical benefits, time off, stock options, etc.)
---
Cindy Lewis has over 20 years of experience in career development. After graduating with her M.S. Degree from CLU in Counseling & Guidance in 1997, she went on to work for Pepperdine University's Graziadio School of Business and Management as their Associate Director helping MBA and JD/MBA students and alumni ranging from recent undergrads to CEO's. Cindy's specialties are helping people make career transitions, creating effective internship programs, recruiting, interview preparation, career center re-organizations, salary negotiations, and coaching candidates on how to lead proactive job/internship searches. Cindy returned to CLU in 2000 as the Director of Career Services. She has since earned an M.S. Degree in Public Policy & Administration in 2012, and just completed her Ed.D. Degree in Higher Education Leadership in May 2016 at CLU. Cindy's B.A. Degree is in Psychology from California State University, Northridge.