R. Guy Erwin, Ph.D.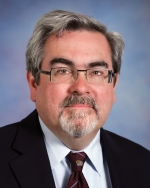 Synod Bishop, Gerhard & Olga J. Belgum Professor of Lutheran Confessional Theology; Professor of Religion and History; Director of the Segerhammar Center for Faith and Culture
Book this person as a speaker:
Email: erwin@callutheran.edu
Phone: (805) 493-3239
---
Dr. Guy Erwin, who joined the CLU faculty in the summer of 2000, is the first full-time holder of CLU's first endowed chair, the Gerhard and Olga J. Belgum Chair of Lutheran Confessional Theology. He also serves as Director of the Segerhammar Center for Faith and Culture. In the 2004-05 and 2005-06 academic years he served as CLU faculty chair. As holder of the Belgum Chair, he serves as a member of the CLU Office of University Ministries, coordinating the work of the Chair, the Segerhammar Center, Campus Ministry, and Church Relations.
In addition to a survey course in the history of Christianity, Prof. Erwin teaches seminar courses on topics in medieval, Reformation, and early modern history and theology, including very popular seminars on the life and thought of Martin Luther and St. Augustine's City of God. Almost all of his courses are cross-listed in both Religion and History, and he occasionally teaches courses in the History department on modern German history and Scandinavian history. He also offers instruction on liturgy and worship in cooperation with the Music Department and occasionally teaches ecclesiastical Latin as a tutorial.
Erwin is a native of Oklahoma and an active member of the Osage Tribe of Indians. He is a member of a number of scholarly societies, a loyal alumni volunteer of his various alma maters, and enjoys book collecting and the study of genealogy. Dr. Erwin is an ordained minister in the Evangelical Lutheran Church in America; he and his partner Rob Flynn are members of St. Matthew's Lutheran Church in North Hollywood, CA, and are very active in Lutheran circles locally, nationally, and internationally.