Dan Hamilton, Ph.D.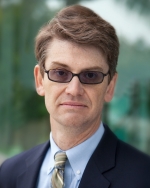 Associate Professor of Economics
Book this person as a speaker:
Email: dhamilto@callutheran.edu
Phone: (805) 493-3724
Speeches:
Introduction to Economic Forecasting

The United States Economy

Forecasting Future Market Conditions

Economic Forecasting and the Current Recession

Economists, the Economy, California, and Forecasting

The U.S. Economy and Economic Forecasting
---
Dan Hamilton, associate professor in the School of Management at California Lutheran University, is the director of economics for the CLU Center for Economic Research and Forecasting (CERF). With more than 17 years of experience in working with economic forecast models, Hamilton worked for three years for the Wharton Econometric Forecasting Associates (WEFA Group) where he produced and interpreted forecasts for a wide variety of clients including Visa International, the Panama Canal Authority, and the Central Bank of Netherlands Antilles.
Hamilton joined the UCSB Economic Forecast Project in 2000 where he worked with well-known regional organizations including Vandenberg Air Force Base, the County of Santa Barbara, The Towbes Group, Ojai Sanitation District, among others. He built and maintained a variety of forecast models in EViews, including models of the United States, California, and Oregon. He also built several forecast models in Excel, including models of grade-school enrollment and commuting.
In 2009, Hamilton along with partners Bill Watkins, Ph.D., and Kirk Lesh, joined the CLU faculty and established the CLU CERF. They also serve as the faculty and directors for the University's new M.S. in Economics program that focuses on teaching the applied tools for economic forecasting.
Hamilton earned a B.S. degree in agricultural economics from UC Davis and his M.S. and Ph.D. in economics from University of California Santa Barbara.