Cynthia Jew, Ph.D.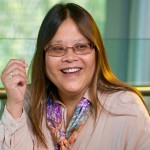 Professor, Counselor Education Department
Book this person as a speaker:
Email: cjew@callutheran.edu
Phone: (805) 493-3692
Speeches:
At-Risk Student and Resiliency
Issues such as school violence, drug and alcohol abuse. Strategies for promoting resiliency.

Parenting Issues
Parenting issues of any concern. Infant programs to college-age students in times of transition. Producing healthy, functional and community-centered adults.

Deafness
A personal journey of a child with profound hearing loss to the implantation of cochlear implants. Her hearing experiences from a parent's view.
---
Professor Jew is a full time faculty member in the Counselor Education Department in the Graduate School of Education at Calfornia Lutheran University.
Her most recent work is in the field of Cultural Proficiency in Higher Education. She continues to work to facilitate conversatations that inform the "best practices" for school-university partnerships. She has co-author two of Corwin books on Cultural Proficiency. Dr. Jew has presented at many professional conferences on Cultural Proficiency.
She has served as a school psychologist at several schools in Colorado and as an assistant professor of education at Tennessee State University, Kent State, University of Colorado at Denver and the University of Redlands.
In her addition to her work as a psychologist, she serves as a Consultant to the Santa Clarita Valley International Charter School. She has held the position of the Program Coordinator for the School Counseling and PPS Credential Program at the University of Redlands. She was also Project Director for the development of the school psychology program.
Dr. Jew is also an Episcopal Priest and Pastor of St. Paul's Episcopal and Emmanuel Lutheran Church in Santa Paula CA.