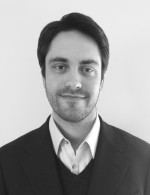 Aaron Fruchtman, Ph.D.
Adjunct Faculty - Music History
About
Aaron Fruchtman is a musicologist and composer. Fruchtman earned his doctorate in musicology from the University of California, Riverside. He also holds degrees in music composition from UC Riverside (M.M.) and the Berklee College of Music (B.M.), as well as an Advanced Studies Certificate in Music for Motion Pictures and Television from the University of Southern California. His dissertation examines film scores of Jewish-themed films and their composers' social and cultural world in the Golden Age of Hollywood.
Fruchtman has presented his scholarship at numerous conferences including the national meetings of the American Musicological Society and the Society for American Music, as well as at NYU's Music and the Moving Image, Youngstown State University's Jewish Music and Identity, and UCLA's Thinking Beyond the Canon. His essay titled, "Sounding the Shofar in Hollywood Film Scores" is included in the book Qol Tamid: The Shofar in Ritual, History, and Culture published by Claremont School of Theology Press (2017).
As a composer, Fruchtman has had his music performed throughout the country. Fruchtman's The Journey, a four-movement composition for narrator, chorus, and orchestra tells the historic tale of settlers migrating across the Oregon Trail. Artistic Director Thea Kano and the New York City Master Chorale premiered The Journey on May 31, 2009 at Lincoln Center. Academy Award-nominated actor Bruce Dern performed the narrator role.
Fruchtman is also a member of the Max Helfman Institute for New Jewish Music that focuses on creating liturgical music for the synagogue. Through this initiative several of Fruchtman's sacred choral works have received their premieres including his Adoration and Psalm 13.
Education
Doctor of Philosophy, Musicology, University of California, Riverside
Master of Music, Composition, University of California, Riverside
Advanced Certificate in Scoring for Motion Pictures and Television, University of Southern California
Bachelor of Music, Berklee College of Music