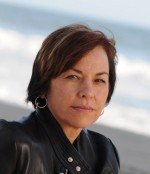 Barbara Obermeier, MBA
Adjunct Faculty
Office Hours: 5:30 to 6:30 Monday
Barb Obermeier is an Adjunct Professor specializing in graphic design and computer graphics in the Art Department.
Barb began her academic career at Ventura College where she taught page layout, digital illustration and imaging for the Art Department. Simultaneously she also taught page layout, digital illustration and imaging, and design strategies and concepts for the Digital Arts Program at UCSB Extension. Barb also taught computer graphics at Cal Lutheran for two years in the mid nineties.
In 2004 Barb began teaching as an Adjunct faculty member at Brooks Institute in Ventura where she taught a wide variety of classes including Identity Design, Publication Design, Package Design, Typography, Digital Imaging & Illustration, Fundamentals of Digital Design and Portfolio Development and Professional Seminar. In addition to teaching, she also assisted in developing program curriculum and executed program outcomes assessment. She served as member on the Faculty Senate, WASC Accreditation Steering Committee, Brooks Planning Council and Marketing Committee. Barb was instrumental in preparing 2009 Graphic Design Program Review Report and Plan. She received First Quarter 2007 Service Award for outstanding teaching and service to students. In additon she was nominated for Faculty Member of the Year 2008 in Professional Development. Nominated for Faculty Member of the Year 2011 in Student Success.
In 2011, Barb was promoted to a full time Lecturer and in 2015 she was promoted again to Lead Instructor for the Graphic Design and Visual Journalism Departments, where she performed administrative duties for both departments and taught classes for the Graphic Design Program. During this time Barb served on the the Persistence and Commencement committees.
In 2016 Barb was promoted to Program Chair for the Graphic Design Program, performing administrative duties for the department, in addtion to teaching. As Chair Barb also served on the Persistence, Marketing Communications, Commencement committees and was a representative on the Academic Senate.
In addition to teaching, Barb continues to have an active graphic design practice where she provides a variety of design services for multiple clients. Barb's specialties include editorial design, brand and identity design and advertising design. Barb is also an accomplished author having written over two dozen books for publishers such as Wiley, Peachpit Press and Adobe Press. Her books have been translated into several different languages and have sold close to a million copies worldwide.
BA Communication Studies, University of California, Santa Barbara, CA
MBA, California Lutheran University, Thousand Oaks, CA
Wiley and Sons and Hungry Minds
Photoshop CS6 , CS5, CS4, CS3, CS2, CS All-in-One Desk Reference for Dummies
Photoshop 7 All-in-One Desk Reference for Dummies
Digital Photography for Dummies Just the Steps
Photoshop Elements 4.0 Just the Steps for Dummies
Microsoft PowerPoint 2007 Just the Steps for Dummies
Microsoft PowerPoint 2003 Just the Steps for Dummies
Photoshop Elements 14, 13, 12, 11, 10, 9, 8, 7 All-in-One Desk Reference for Dummies
Photoshop Elements 14 ,13, 12, 11, 10, 9, 8, 7, 6, 5, 4 for Dummies
Photoshop Album for Dummies
Illustrator 10 for Dummies
CorelDRAW 9 for Dummies
Photoshop 7, 6, 5 for Dummies
Peachpit Press
How to Wow with Illustrator
Illustrated Illuminated Adobe Master Class
Real World Illustrator CS4 [contributing author]
Real World Illustrator 10 [contributing author]
Photoshop 6 Visual Quick Start Guide [contributing author]