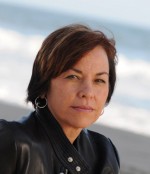 Barbara Miyuki Obermeier, MBA
Lecturer
She/Her
Office Hours: Monday 10:30 A.M. to 12:30 P.M. and 3:30 P.M. to 4:00 P.M. | Tuesday 1:30 P.M. to 2:00 P.M. | Wednesday 10:30 A.M. to 11:30 A.M. and 3:30 P.M. to 4:00 P.M. | Thursday 1:30 P.M. to 2:00 P.M. | Or by appointment
About
Barbara Obermeier teaches graphic design and digital art in the Visual Arts Department. Barb's approach to teaching is to instill in students that being a lifelong learner, being technically nimble and knowledgeable and staying curious and immersed in design and life in general will help to fuel the creative inspiration and energy needed to solve design challenges.
Prior to Cal Lutheran, Barb taught at Ventura College, UCSB, Brooks Institute and Cal State Channel Islands. Barb's areas of expertise include Branding and Identity Design, Publication Design, Package Design, Typography, Digital Imaging & Illustration and Portfolio Development and Professional Seminar. At Brooks Institute, Barb was the Program Chair for the Graphic Design Department. In additional to teaching and advising, she was instrumental in developing program curriculum, executing outcomes assessment and program reviews and assisting with marketing and strategic planning. She received a Service Award for outstanding teaching and service to students and was also nominated for Faculty Member of the Year in Professional Development as well as Faculty Member of the Year in Student Success.
In addition to teaching, Barb has a graphic design practice. Her specialties include editorial and advertising design, as well as branding and identity design. Barb is also an accomplished author having written over two dozen books on digital art software for publishers such as Wiley, Peachpit Press and Adobe Press. Her books have been translated into several different languages and have sold close to a million copies worldwide.
Barb received her MBA from Cal Lutheran and her BA in Communication Studies from the University of California, Santa Barbara.
Education
BA Communication Studies, University of California, Santa Barbara, CA
MBA, California Lutheran University, Thousand Oaks, CA
Publications
John Wiley & Sons and Hungry Minds

Photoshop CS6, CS5, CS4, CS3, CS2, CS All-in-One Desk Reference for Dummies

Photoshop 7 All-in-One Desk Reference for Dummies

Digital Photography for Dummies Just the Steps

Photoshop Elements 4.0 Just the Steps for Dummies

Microsoft PowerPoint 2007 Just the Steps for Dummies

Microsoft PowerPoint 2003 Just the Steps for Dummies

Photoshop Elements 13, 12, 11, 10, 9, 8, 7 All-in-One Desk Reference for Dummies

Photoshop Elements 2021, 2020, 2019–2004 for Dummies

Photoshop Album for Dummies

Illustrator 10 for Dummies

CorelDRAW 9 for Dummies

Photoshop 7, 6, 5 for Dummies	

Peachpit Press

How to Wow with Illustrator

Illustrated Illuminated Adobe Master Class

Real World Illustrator CS4 [contributing author]

Real World Illustrator 10 [contributing author]

Photoshop 6 Visual Quick Start Guide [contributing author]