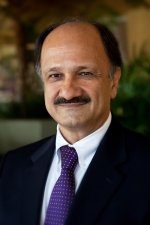 Jamshid Damooei, Ph.D.
Professor and Director, Economics, Executive Director, Center for Economics of Social Issues
Jamshid Damooei is a Professor of Economics, Director of Economics Program, and the Executive Director of the Center for Economics of Social Issues (CESI) at California Lutheran University. Prior to joining California Lutheran University, Dr. Damooei served as a Senior Economist for the United Nations Development Program (UNDP). Back in early 1980's he was the Director General of the Department of Economic Studies and Policies of the Ministry of Economic Affairs and Finance of Iran.
During the last two and a half decades he has become more focused on the economic analyses of social issues and published in professional and popular journals as well as books edited on such subjects/issues. His research endeavors on the topic of investing in children resulted in publication of multiple pioneering studies on the economic impact of Boys & Girls Clubs of America in a number of states and metropolitan areas within the USA. In all of his recent studies on children and youth, there is a strong emphasis on the impact of socio-economic status (SES) of children on their academic performance and social behavior and their opportunity to be successful in their lives as they grow up.
Professor Damooei was the recipient of the President Award for Teaching Excellence of the California Lutheran University in 2006. In 2017 he was recognized by Huffington Post as an Iranian-Americans who have made seminal contributions to their fields of endeavour and he received the Provost Distinguished Scholar Award for 2017-18 academic year.
He served as a consultant for a number of organizations such as Boys & Girls Clubs across various states, Public Health, First 5, United Way, Blue Cross, Blue Shield, various foundations within Ventura and LA Counties, and a number of other non-profit organizations. Most recently, he has completed three major studies for the Ventura County Community Foundation.
His other scholarly work includes a broad spectrum of current social and economic issues such as: project design and evaluation, methods of capacity building during time of crisis, crisis prevention and recovery, causes of economic imbalances, aid coordination, privatization of industries, monetary and financial problems, and economic and social impact assessments of policies or institutional establishments.
While he worked at UNDP and later as an international consultant with UNDP and the United Nations Office of Project Services (UNOPS) he conducted a number of studies on economic issues of Somalia and the Horn of Africa. His studies relate to the economic and political issues of the area faced with political instability and economic crises. He writes op-eds a number of regional newspapers and he is often interviewed by various news media. His views and commentaries on international economic issues are frequently sought by international media such as BBC and other international radios and televisions.
1981 Ph.D. in Economics, Department of Economics,University ofSurrey,Surrey,England.
1977 M.Phil in Economics, Department of Political Economy, University College London (UCL) University of London, London, England, Transferred to PhD Program.
1975 M.Sc. in Economics, Department of Economics,University of Surrey,Surrey,England.
1972 B.Sc. in Economics, Department of Economics, University of Tehran, Tehran, Iran
Economic Analyses of Social Issues
Public Policy Analyses
International Economics
Evaluation of Projects/Programs
Economic and Social Impact Assessment
Study of Quality of Life Issues
Papers/Articles in Journals and Books Alone or in Collaboration with Other Colleagues/Scholars:
Economics of the Debt Crisis and Its Impact on the Developing Countries, Ed , The Changing Landscape of Global Financial Governance and the Role of Soft Law, Brill Martines Nijhoff Publishers, June 2015.

The True Value of Liberal Arts Education, Spring Editions, Journal of Globalization for the Common Good Initiatives, Wilmington College, Ohio, USA, June 2015.
Economic Efficiency and Ethical Behavior: Exploring Ideas on the Creation of Economic Values, the Workings of a Virtuous Market, and the Role of Profit, Journal of Globalization for the Common Good Initiatives, Wilmington College, Ohio, USA, December 2014.
Batch-Level Costs in Activity-Based Costing Refinement, Optimization and Allocation (2009), International Business and economics Research Journal
Globalization: Is It the Promise for Greater World Economic Convergence and a Better and More Equitable Future for Developing Countries? Journal of Globalization for the Common Good, Spring of 2007. UK.
Dimensions of Sustainable Diversity in Information Technology: Applications in the IT College Major and career Aspirations among Underrepresented High School Students of color, Goran Trajkoski, ed. (2006), Diversity in IT Education: Issues and Controversies, IDEA Group Publishers.
The Effect of Foreign Direct Investment and Imports on Economic Growth: A Comparative Analysis of Thailand and the Philippines (1970-1998), Journal of Developing Areas (spring of 2006).
Coauthored Stretching Horizons: Stimulating Information Technology Education, International Journal of Technology, Knowledge and Society, Volume 1, Issue 4, pp 115-122, 2006.
Analyzing Somalia's Past and Present Economic Constraints and Opportunities for Creating a Conducive Future Economic Environment, Published in Hossein M. Adam and Richard Ford, ed. (1997). Mending Rips in the Sky: Options for Somali Communities in the 21st Century, Red Sea Press, USA. Also a synopsis of this paper appeared in IFTIN Quarterly, Vol. 1, No. 4, June 1994.
Privatization: The Concept and the Promise for the Third WorldCountries. A Discussion Paper presented at the CLU Global Trade Center Seminar on 'Privatization and Business Opportunity in Eastern Europe'. It was also presented at the 'Second Conference on Planning and Economic Development' in Tehran, Iranon January 1993. The paper was published by the Institute for Research in Planning and Development of the Planning organization of Iran (Jan.1993), Proceedings of the Second Conference on Planning and Development.
Where is the Vanishing Cash? An Economic Study of the Recent Cash Shortages in Somalia's Banking System. United Nations Development Program, Published by UNDP Somalia Aug. 1989 also reappeared in 'Industrial Management Review' Vol. 8 No.1, 1990, Mogadishu
Most Recent Monographs/Policy Papers/Evaluations Reports Prepared and Published on the Regional Economic and Social Issues (from 2010 to 2019):
Economic Impact of Establishing Family Justice Center in Ventura County, a pro bono research work to help Ventura County DA Office and other collaborating partners in the county (ongoing).
State of the Region, commissioned and sponsored by the Civic Alliance of Ventura County, July 2019
Looking into the Imperative of Creating a Universal High-Quality Early Childhood Education in Ventura County: An Essential Step towards Creating A Better Tomorrow for All, Commissioned by Ventura County Community Foundation, March 2019
The Future of Caregiving for an Aging Population: Increasing Community and Economic Vitality in Ventura County, Commissioned by Ventura County Community Foundation (VCCF), January 2019.
Wealth Accumulation in the 21st Century, January 2018. Thought Leadership Series (London Based Organization)
Gap Analysis for Preconception to Age Five Blueprint for Funding (Fresno County), A study conducted as the principal investigator for La Pina Consulting, 2018
Transfer of Wealth in Ventura County: Using the Existing and the Emerging Philanthropic Giving to Strengthen the Quality of Life in Ventura County for the Next Fifty Years, A Study Commissioned by Ventura County Community Foundation (VCCF), March 2018.
Economic Impact of Boys & Girls Clubs in Ventura County, 2018.
Integration of Physical and Behavioral Health in Ventura County, commissioned by Gold Coast Health Plan. A research contract in collaboration with other colleague (CESI, School of Management, California Lutheran University), November 2017
Economic and Social Impact of Connections Community Programs in the State of Delaware: November 2017.
Economic and Social Impact of KidSTREAM Children Museum in Ventura County: December 2017.
Integration of Physical and Behavioral Health in Ventura County, commissioned by Gold Coast Health Plan (currently underway). A research contract in collaboration with other colleague at the Center for the Study of Economics of Social Issues (CESI), November 2017.
Economic and Social Impact of Connections Community Programs in the State of Delaware: Working Together with Partners to improve the lives of Individuals and Groups in Need within the State of Delaware, November 2017
Economic and Social Impact of the Boys & Girls Clubs of the State of Delaware, May 2016
Final Report for Evaluation of Ventura County Juvenile Specialty Court Community Integration Program (JSCCIP) May 2016.
Economic Growth and Educational Opportunities for the West End & Inland Empire Region, commissioned by WestEd, June 2015
Economic and Social Impact of the Boys & Girls Club of Greater Houston, August 2015
Economic and Social Impact of Boys & Girls Clubs of Central Texas, October 2015
State of the Region, commissioned and sponsored by the Civic Alliance of Ventura County, May 2017
Community Survey of Oxnard Police Department, Oxnard, Ventura County, California, October 2014.
Evening Reporting Center Project, Prepared for Boys & Girls Clubs of Greater Oxnard and Port Hueneme July 2014
State of the Region, commissioned and sponsored by the Civic Alliance of Ventura County, May 2015.
Economic Impact of the Boys & Girls Clubs of Central Florida, Funerary 2014
The Boys and Girls Clubs in Ventura County: Serving the Economic Interests of the Region while Providing a Positive Place for Kids. This Report Measures the Total Economic Impact of all the Boys and Girls Clubs in Ventura County, June 2014
An Interim Report for Juvenile Specialty Court Community Integration Program (JSCCIP) July 2014
Oxnard Alliance for Community Strength The Annual Report: The Impact of Alliance in Brining the Community Through Emphasizing on Prevention, Sharing Ideas, Learning the Best Practices, and Building the Capacity for Its Long Term Sustainability, August 2014
The Impact of Peace Education Program around the World A Program Designed and Implemented By The Prem Rawat Foundation, June 2014
Economic impact of Boys & Girls Clubs in Miami-Dade County in Florida (June 2013)
State of the Region, commissioned and sponsored by the Civic Alliance of Ventura County (February 2013)Annual Evaluation of Targeted Reentry Aftercare Mentoring Program (RAMP), Boys and Girls Club of Oxnard and Port Hueneme, (December 2012).
Economic impact of Boys & Girls Clubs of Broward County in Florida (October 2012).Awakening Minds-Changing Path project (2011-2012) Final Evaluation Report, presented to City of Oxnard Recreation and Community Services.
Report of after-school evaluation for Rio School District for 2010-2011, March 2012.
Report of the Findings from HEDIS Childhood Obesity Clinic/Physician Feedback Survey, Clinical Programs and State Sponsored Business WellPoint Inc, January 2012.
Evaluation of Brain Training Project, Hardy Brian Training: Creating a Brighter Future, Sponsored by the Boys & Girls Clubs of Greater Oxnard and Port Hueneme, 2011
Project Evaluation Report for Oxnard Community Peace Project (OCPP), March 2011.
Awakening Minds-Changing Paths, Program Evaluation Report 2011, City of Oxnard Recreation & Community Services Department, A Cal GRIP sponsored program.
Cultural and Linguistic Needs Assessment (GNA) for the BlueShield of California, prepared for the State Programs Sales & Business Development, August 2011.
Economic Impact of the Boys & Girls Clubs of California Provided for the State California Alliance of the Boys & Girls Clubs, Boys & Girls Clubs of America, 2011.
Economic Impact of the Boys & Girls Club of Fontana, 2011.
Economic Impact of the Boys & Girls Clubs of New Jersey Provided for the Alliance of the Boys & Girls Clubs of the State of New Jersey, Boys & Girls Clubs of America, 2011.
United Way Community Impact Survey, 2011. Report of after-school evaluation for Rio School District for 2010-2011, March 2011.
Economic Impact of the Boys & Girls Clubs of Ventura County, 2010.
Economic Impact of the Alliance of the Boys and Girls Clubs of Los Angeles, 2010
State of Region: an Interim Report, Ventura County Civic Alliance, sponsored by the Ventura County Community Foundation, 2010.
Economic Impacts of the Boys & Girls Clubs of the Valley of Sun (Arizona), 2010. Report of after-school evaluation for Rio School District for 2009-2010, March 2010.
Evaluation Report of Targeted Re-Entry Program of the Boys & Girls Clubs of Greater Oxnard & Port Hueneme, April 2011
Economic Impact of California Lutheran University, 2010