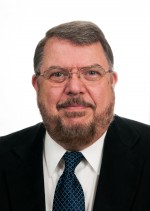 Dave E Tofanelli, MBA, PhD
Adjunct Faculty Member
Dr. Tofanelli is currently the Practice Administrator of Carolina Cardiology, a member practice of Cornerstone Health Care. In this role, Dr. Tofanelli maintains overall responsibility for managing the largest cardiology practice in central North Carolina, headquartered in High Point with practice sites across the region. Before coming to Carolina Cardiology, Dr. Tofanelli was Managing Partner of Synergos Inc. Synergos is a multi-faceted healthcare management consulting group with special expertise in health plan contracting, strategic planning, and executive and career coaching.

Prior to Synergos, Dr. Tofanelli was employed by WellPoint, Inc., where he was responsible for overseeing vendor contracting. In addition to his experience at WellPoint, Dr. Tofanelli was a vice president at MedMark Services, Inc., where he oversaw the construction, staffing and operations of outpatient medical treatment facilities. Dr. Tofanelli was also the chief executive of Kaiser Permanente Mid-Atlantic Health Plan's largest medical treatment facility. He has also held significant development and management positions with multispecialty group practices, large regional health care systems, and practice management organizations.

In addition to his professional experience, Dr. Tofanelli has held adjunct professor positions with various universities for over 20 years. Currently Dr. Tofanelli is on the active faculty of High Point University, California Lutheran University, and California State University, Channel Islands. Dr. Tofanelli's adjunct teaching experience also includes prior positions with Biola University, Central Michigan University, George Mason University, the University of Maryland at College Park, and the University of Laverne.

PhD, Business Administration (Organizational Leadership), Northcentral University, Prescott Valley, Arizona

Post Graduate Fellowship, Health Policy, Air Force Institute of Technology, Dayton, Ohio

Post Graduate Fellowship, Financial Management, Office of the Secretary of Defense for Health Affairs, Washington, D.C.

Master of Science, System Management, University of Denver, Denver, Colorado

Master of Business Administration (Finance), Golden Gate University, San Francisco, California

Bachelor of Science, Business Administration (Management and Economics), Our Lady of the Lake University, San Antonio, Texas

Areas of Strength

Project management

Health plan operationsŸ

Strategic planning Ÿ

Executive and career coaching

Communication in Organizations. (2012). Bloomington, IN: AuthorHouse. (ISBN 978-1468562910).


Communication in a Business Setting. (2009). Bloomington, IN: AuthorHouse. (ISBN 978-1449020439).

A Look into the Future of Health Care Using a Cost-Based Methodology. (2009, September 16). In National Care Network Customer Advisory Board. Dallas, TX.

Cancer, a Marriage, and a Miracle. (2008). Longwood, FL: Xulon Press. (ISBN 978-1606477243).

The Benefits of a Strong Business Relationship. (2005, June 7). In National Care Network Healthcare Summit 2005. Las Vegas, NV.

The Decline of Hospital System Owned and Operated Medical Groups. (2001, January 24). In University of Maryland Business of Healthcare Forum. College Park, MD.

Integrated Delivery System Design. (2001, April 17). In U.S. Army Medical Society Seminar on Healthcare Economics. San Antonio, TX.

Healthcare Planning in Economic Terms. (2000, December 17). In Healthcare Society of the District of Columbia Winter Meeting. Washington, DC.

Healthcare Economics: Where Are We and Where Should We Go? (1999, Winter). Healthwise. Kaiser Permanente.

Transition of Risk from Health Plans to Medical Groups. (1999, May 11). In Washington Area Council of Governments Professional Development Program. Washington, D.C.

Financial Decision Making in Health Care. (1998, March1). In The 1998 Congress on Healthcare Administration. Chicago, IL.

Achieving Health Care Reform: How We Got Here and Where We May Be Going. (1994, Sping). Journal of the United States Public Health Service.

With Chiappelli, Theodore P. (1991). Structuring Medical Service. Montgomery, AL: Air University Press.

Overcoming Barriers in a Medical Center's Resource Management Office. (1991, Spring) Healthcare Executive. American College of Healthcare Executives.