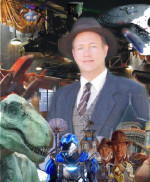 Harry J Evry
Adjunct Faculty Member
About
Media developer, software engineer, producer, technical director, post-production and vfx supervisor, editor, author, composer, professor, development consultant and imagineer with more than 25 years experience in the areas of programming, production, apps, games, AR, VR, VFX, audio, video, lighting, music, projection, theatrical, new media, interactive and location-based entertainment.
Developed many interactive, AR and VR experiences, including Amazon's Prime Video VR, DMG's Transformers VR, a Walmart/Spatialand VR experience, Spin Launch's space launch simulator, Seagate's Media Explorer and Viewer App, "Musicality", an award winning HoloLens AR music app and numerous exhibits, attractions and location-based experiences.
Creative technical lead for projects ranging from games, VR, television, themepark attractions, museums, stage shows, magic shows, haunts, escape rooms, media and display systems to embedded controls, media, music and editing apps, DVDs, flight controls, ride systems, consumer products and scientific instruments. Contributed to popular brands including Amazon, Aristocrats Gaming, Barbie, Bechtel, Bugs Life, Disney, DMG, Indiana Jones, Jurassic Park, Lorimar TelePictures, Madagascar, Madame Tussaud's, Magic World, The Magic Castle, Mattel, Max Steel, Paramount, Seagate, Star Trek, Tandy, Tournament of Roses, Transformers, Universal Studios & Warner Bros. Work has received two Consumer Electronics Association "Innovation Awards", eight Emmy Awards, three Oscar Nominations and a Popular Science Invention of the Year.
Founding Head of Education for The VR/AR Association. Professor of new media, game and environmental design, visual effects, software engineering, post-production, scripting, app, game and VR programming. Chaired one of the first college Game Design programs and taught the first video game development classes offered by the Los Angeles Unified School District.
Technical director and lead programmer for themeparks, themed restaurants, gaming systems, gallery exhibits and a high-tech rehabilitation center with Nolan Bushnell founder of Atari and Chuck E. Cheese. Co-authored and sold first commercial video game in middle school and programmed and engineered one of the earliest entertainment simulator attractions.
In-house Designer and Art Department Coordinator for Star Trek, The Next Generation, producing graphics, sets, props and fx. Helped design, develop and refine ship controls, models, exteriors, the Borg and the Holodeck. Coordinated, defined, documented and supervised Star Trek's visual styles, conventions, interfaces, typefaces, technology profile and brand licensing guidelines.
Head of Production Technology, Post-Production Department Coordinator for Lorimar TelePictures, producing more than 21 TV series (incl. Dallas, Alf, Paradise, Knots Landing, Max Headroom, Full House…) and numerous motion pictures (incl. Always, Indiana Jones and the Last Crusade…). Programmed game show systems, developed the first computer-based production tracking system, pioneered the use of computer graphics, virtual set extensions, digital spotting, electronic scoring and nonlinear editing in television and film.
Served as Product Lead and Sr. Development Engineer for a pioneering leader in environmental science, laboratory robotics, air sampling and head-space analysis.
Responsible for design, engineering and production of media, control, audio, lighting and interactive systems for several themeparks, dozens of rides, exhibits and attractions, numerous museums, haunts, escape rooms and galleries and a 100 acre museum, nature preserve and cultural center complex. Implemented audio, video, music, media, show control, lighting, DMX, MIDI, photographic, compositing, graphics, animation, shaders, visual fx, AI, Blu-ray, CDG, machine vision, PWM, sensor fusion, DSP, RFID, servo, stepper-motor, Alexa, serial & network communication.
Member of California Science Center's Board of Directors, Project Approval Committee and Judging Advisory Committee for the California Science and Engineering Fair. Designed and implemented website, communication and support systems and all media production for California's first virtual online Science and Engineering Fair. Served on committees and boards for Academy of Magical Arts, Cabrillo Computer Society, CalHaunts, California Science Center, Color America, Harvard Center for Health Education, Global Game Jam, Hub 101, La Plaza de la Raza, Toast Masters International, The City and County of Los Angeles, The City of Thousand Oaks, The Tournament of Roses Association, University of Southern California, and Ventura County Discovery Center.
Expertise
Recognized for early efforts in computer animation, virtual machine language, haptic feedback, nonlinear editing, digital scoring, music software, voice synthesis, network rendering, transmersive medicine and full-body interactive game control.
Unity, Unreal, C, C#, C++, Cg, Swift, Java, Javascript, React, Node.js, Python, BASIC, HTML, CSS, Nuke, Fusion, Photoshop, After Effects, 3dStudio, Maya, Houdini, Substance, AutoCad, VectorWorks, VHDL and Assembly Language on a wide range of microprocessors and microcontrollers.
Authored two original computer languages, ABSIS and ADVENTIC, and the book, "Beginning Game Graphics", Thomson/Premier Press.
Publications
"Beginning Game Graphics", Thomson Course Technologies / Premier Press
Numerous articles for the Academy of Magical Arts
Numerous articles for the California Science Center / California Science and Engineering Fair