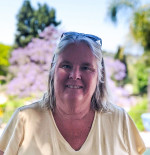 Andrea L. Huvard, Ph.D.
Professor of Biology and Environmental Science
About
Dr. Huvard's interests are in Marine Biology, invertebrate zoology and underwater videography. She has focused her recent career on the conservation and preservation of marine ecosystems through education. In addition to research articles and textbook materials, her publications include a series of underwater videos that document costal marine ecosystems of the Channel Islands and the Hawaiian Islands. Her current research examines the accumulation of microfibers in marine sediments, invertebtates and fish. As an administrator, she is interested in the interdisciplinary nature of modern science and how to deliver this to a new generation of university students.
Education
PhD UCLA, 1991, Marine Biology, Biology, Invertebrate Zoology
MS SDSU, 1995, Marine Biology, Zoology, Invertebrate Zoology
BA Trinity University, 1982, Biology/Psychology
Expertise
Marine science, invertebrate zoology, ecology and evolution.
Grant Funding
PADI Foundation