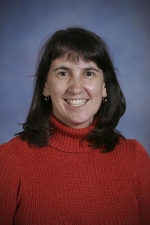 Michele LeBlanc, Ph.D.
Professor of Exercise Science; Nena Amundson Professor of Biomechanics
About
Dr. LeBlanc is the Nena Amundson Professor of Biomechanics at Cal Lutheran. Prior to her appointment at Cal Lutheran, Dr. LeBlanc held faculty positions at other institutions and a research position as a Health Science Specialist in the Physical Medicine and Rehabilitation Gait Lab for the Greater Los Angeles V.A. Hospital.
She utilizes standard biomechanical data collection techniques, as well as mathematical modeling and computer simulation in her research. Her recent research includes analyzing the mechanical properties of the patellar tendon using acoustoelasticity, analyzing landing mechanics, as well as bone density measures in humans and animals.
Dr. LeBlanc was funded by the United States Olympic Committee for seven years to serve as the biomechanist for American elite-level javelin throwers. She is now working with the US Men's National Field Hockey team to determine how to best perform the drag flick.
Dr. LeBlanc founded the Office for Undergraduate Research at Cal Lutheran and was the director for four years. She was the Project Shepherd for the newly opened Swenson Science Center and serves as the shepherd for the Ahmanson Science Center renovations.
She is now the Pre-Health Director for CLU.
Education
Ph.D. in Human Performance (Biomechanics), Indiana University
M.S. in Mathematical Sciences, The University of North Carolina at Chapel Hill
B.S. in Mathematics, Indiana University Department of Mathematics