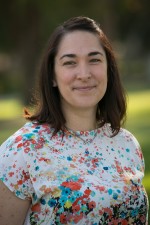 Mary E. Oksala, Ph.D
Associate Professor of Physics
About
Dr. Mary Oksala is an Associate Professor of Physics at California Lutheran University and an observational stellar astrophysicist, studying the most massive stars in the Milky Way and other nearby galaxies.
Prior to joining the CLU faculty, Dr. Oksala received her Bachelors of Science degree in Physics from West Chester University of Pennsylvania and a PhD in Physics from the University of Delaware. She was a postdoctoral researcher for 3 years at the Astronomical Institute of the Academy of the Czech Republic, located in rural Prague, before receiving a 2 year postdoctoral fellowship at the Paris Observatory in France.
At CLU, Dr. Oksala teaches both introductory and upper level physics courses, as well as the Introduction to Astronomy course. She is also the faculty advisor for the Physics Club and the Physics Honors Society, Sigma Pi Sigma.
Education
2011 -- PhD in Physics, University of Delaware
2004 -- B.S. in Physics, West Chester University of Pennsylvania
Expertise
The structure and effects of magnetic fields in massive stars.