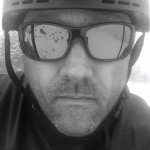 Michael Uguccioni, B.Sc
Adjunct Faculty Member
Office Hours: Fall 2019 - Tuesday's 6:00 to 9:20PM - (09/04 - 12/11)
Michael Uguccioni has been teaching Visual Effects, Animation and Motion Graphics for nine years at California Lutheran University. With a Bachelor of Science in Television Production and an Associate of Applied Science in Audio Visual Production, he's trained a diverse group of students that are currently working in the field of MultiMedia.

Uguccioni's career is vast with over twenty years of industry experience in Feature Film, Television, Commercial and Music Video. His most recent work includes several academy award nominated films. The Revenant (2015), American Sniper (2014), American Hustle (2013), and Zero Dark Thirty (2012). In addition, Pirates of the Caribbean: At World's End (2007), The Passion of the Christ (2004), The Last Samuri (2003) and Armageddon (1998).

Mike currently resides in Thousand Oaks where he oversees the Visual Effects at Secret Weapon VFX. When he's not working you'll probably find him snowboarding, surfing or on the Ducati's. 😎

Awards : Distinguished Alumni Award - Ferris State University 2018

Bachelor of Science : Television Production - Ferris State University 1992

Associate of Applied Science : Audio Visual Production - Ferris State University 1990

Visual Effects, VFX Supervision, 2D & 3D Compositing, Animation & Motion Graphics

Nuke, After Effects, Shake, Modo, Cinema 4D, Lightwave, Mocha Pro, Syntheyes...