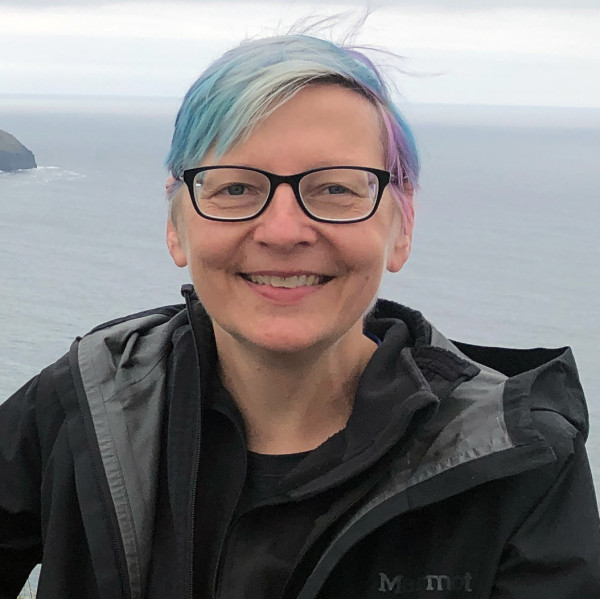 Dru Pagliassotti, Ph.D.
Professor
xe/xem | Dru/Dru's
About
"Dr. Dru" Pagliassotti teaches website design, film theory, film studies, news writing, and copy editing, and supervises student internships. Dru's co-taught classes have included the art/communication travel course Imagining Venice, which took students to Venice and Florence in 2011, 2013, and 2018; the history/communication travel course Faces of India, which took students to India in 2006; and an art/communication course on the history, sociology, and creation of comics, ComicComm. Dru served as the Communication Department chair from 2013-2019 and from 2018-2019 headed the task force that shifted CLU's faculty governance from a full-faculty assembly model to a Faculty Senate/Faculty Assembly model.
Dr. Dru's research interests revolve around the portrayal of gender and sexuality in popular culture. Dru is currently working on a paper applying monster theory to popular characterizations of COVID-19 and recently finished a chapter about neo-Victorian comics. Past research has examined the development and growing popularity of boys' love (yaoi) manga in the West, including a PLOS article that analyzes people's motives for reading yaoi that was co-written with researchers in Hungary. Dr. Dru has also written a chapter on the role of technology in steampunk romance and erotica for Steaming into a Victorian Future and a chapter about female mad scientists in Neo-Victorian Humour: Comic Subversions and Unlaughter in Contemporary Historical Re-Visions. Dru serves on the editorial board of the Journal of Neo-Victorian Studies and Revenant: Critical and Creative Studies of the Supernatural.
Dr. Dru is the author of four novels and a number of short stories; owned and edited The Harrow, an online literary magazine for fantasy and horror, for 11.5 years; and ran The Harrow Press, a publisher of print horror anthologies, for seven years. Dru's past professional experience includes editorial work on print books, journals, and trade magazines; freelance website design; and serving as a content provider for a roleplaying games site on About.Com. Dr. Dru holds a black belt in kempo, plays Dungeons & Dragons, adores iguanas, and is currently trying to master Spanish.
Education
Ph.D., University of Southern California, Communication Theory & Research
M.A., University of Southern California, Communication Theory & Research
Graduate Certificate in Gender Studies, University of Southern California
B.A., University of California, Santa Barbara, Communication
B.A., University of California, Santa Barbara, Sociology
Publications
ACADEMIC:
"Loving the Love of Boys: Motives for Consuming Yaoi Media" by Ágnes Zsila; Dru Pagliassotti; Róbert Urbán; Gábor Orosz; Orsolya Király; Zsolt Demetrovics. PLOS-One, June 14, 2018.
"People Keep Giving Me Rings, but I Think a Small Death Ray Might Be More Practical": Women and Mad Science in Steampunk Comics in Neo-Victorian Humour: The Rhetorics and Politics of Comedy, Irony and Parody, Kohlke, M.L. & Gutleben, C. (Eds.) Rodopi Press, 2017.
"Love and the Machine: Technology and Human Relationships in Steampunk Romance and Erotica" in Steaming into a Victorian Future: A Steampunk Anthology. Julie Anne Taddeo & Cynthia J. Miller (Eds.). Scarecrow Press, 2013.
"Better than Romance? Japanese BL Manga and the Subgenre of Male/Male Romantic Fiction" in Boys' Love Manga: Essays on the Sexual Ambiguity and Cross-Cultural Fandom of the Genre. Levi, McHarry & Pagliassotti (Eds.). McFarland Publishers, 2010.
GloBLisation and Hybridisation: Publishers' Strategies for Bringing Boys' Love to the United States. Intersections: Gender and Sexuality in Asia and the Pacific, 20. April 2009.
Vietnamese translation of GloBLisation and Hybridisation: TOÀN CẦU HÓA VÀ TIẾP BIẾN HÓA: NHỮNG CHIẾN LƯỢC MANG BOYS'LOVE ĐẾN HOA KỲ CỦA CÁC NHÀ XUẤT BẢN

Reading Boys' Love in the West. Participations, 5(2). November 2008. Guest editor.
(Book Review) Gender and Community in the Social Construction of the Internet. Information, Communication, and Society, 6(2), 272-274. 2003.
On the Discursive Construction of Sex and Gender. Communication Research, 20(3), 472-493. June 1993.
FICTION:
Novels:
Clockwork Secrets: Heavy Fire (EDGE, Sept. 2014)
Clockwork Lies: Iron Wind (EDGE, March 2014)
Clockwork Heart (revised, EDGE Sept. 2013)
An Agreement with Hell (Apex Book Company, 2011; reprinted 2016)
Clockwork Heart (Juno Books, 2008) RT Book Reviews' 2008 Best Small Press Futuristic Novel. Translated into German (Das Mechanische Herz) and French (Icarus).
Short stories:
Divided Loyalties (Revenant, Winter 2015)
Ghost in the Machine (The Mammoth Book of Ghost Romance, 2012)
Code of Blood (Corsets & Clockwork, May 2011)
After the Sleep (reprint, Alien Shots/Apex Book Company, January 2011)
Pan de Los Muertos (reprint, Dia de los Muertos, December 2010)
To Every Thing there is a Season (Apexology, August 2010)
Peter, Peter (reprint, The Three-Lobed Burning Eye Annual, v. 4, edited by Andrew S. Fuller, from Legion Press, November 2009)
The Manufactory (Beneath Ceaseless Skies, November 2009 — audio January 2010)
Terminus (w/Jo Gerrard; Magic & Mechanica, Ricasso Press, January 2009)
Bookmarked (Reflection's Edge, October 2007). Honorable Mention, The Year's Best Fantasy and Horror (2008).
Night Shift (Worlds of Wonder, July 2007)
Changing the End (Anotherealm; July 2007)
Defender of the Faith (Reflection's Edge, August 2006)
Strange Vintage (Fear of the Unknown, March 2005)
Tam Lin (Strange Horizons, November 2004)
Joseph's Plaint (Ideomancer, June 2004)
Peter, Peter (Three-Lobed Burning Eye, Summer 2003)
Pan de los Muertos (Strange Horizons, April 2003)
After the Sleep (Dark Fire, March 2003)
Analogues (Erratica, Spring 1997: reproduced on this site)
EDITOR, FICTION ANTHOLOGY:
Mortis Operandi (2012) The Harrow Press

Day Terrors (2011) The Harrow Press
Midnight Lullabies (2007) The Harrow Press