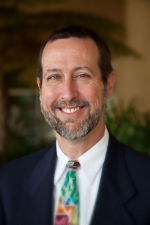 Paul Witman, Ph.D.
Director and Professor, Masters in Information Technology (MSIT)
Office Hours: Tuesday 9-11, Thursday 9:15-11:15, and by appointment
About
Paul Witman teaches Information Technology Management in the School of Management. He is director of the MS-Information Technology program, and of the Information Technology Management emphases for both the undergraduate and graduate business programs. He conducts research in information security and privacy, in consulting for social media, and in the uses of social media in nonprofits and religious organizations. He has broad experience in technology development for industry, particularly for banking. He also writes teaching case studies, focusing on the use and mis-use of information and technology

Prior to joining the CLU faculty, he served as Director of Integration Engineering for Digital Insight Corp. and as Director of Global Delivery Systems at Citibank. His research interests are in information systems for churches and non-profits, software development and reuse, information security, Internet value for businesses, and the scholarship of teaching and learning. He completed his Ph.D. in information systems and technology at Claremont Graduate University in 2007.
Education
Ph.D., Information Systems and Technology, Claremont Graduate University, 2007 M.S., Computer Information Systems, Claremont Graduate School, 1987 B.S., Math/Computer Science, UCLA, 1983
Expertise
Banking Technology
Information Systems
Information Security
Information Systems for Churches and Non-profits
Social Media
Publications
Selected publications:
Witman, P. (November, 2019) Deposit a Check, Get Arrested – The Case of Mishandled ATM Camera Forensics. Teaching case presented at the EDSIGCon Conference 2019, Cleveland, OH
Witman, P. (September, 2018) "What Gets Measured Gets Managed" - The Wells Fargo Account Opening Scandal. Teaching case in the Journal of Information Systems Education, Volume 29, Issue 3, p. 131-138
Witman, P. (November, 2017) "What Gets Measured Gets Managed" - The Wells Fargo Account Opening Scandal. Presented at the EdSIGCon 2017, Austin, TX. Received Best Case Study Paper award for the conference.
Witman, P., Ilie, V., Njunge, C., et al. (August 12, 2016) Social Inclusion across Information Systems Specializations. Held at the Americas Conference on Information Systems, San Diego, CA, August 12, 2016
Witman, P. and Njunge, C. (March, 2016). Black Box Thinking: Analysis of a Service Outsourcing Case in Insurance. Information Systems Education Journal (ISEDJ), Volume 14, Issue 2.
Witman, P., and Njunge, C. (November, 2015) Service Outsourcing Handoff Run Amok - A Black Box Case Study from the Insurance Industry. Presented at the EdSigCon 2015, Wilmington, NC
Witman, P. (August, 2014) Not-for-profits and Social Media – Can We Find Strategic Value? Presented at theAmericas Conference for Information Systems, Savannah, GA.
Witman, P. Social Media for Social Value. IEEE COMPUTER, July 2013, Vol.46, Issue 7.
Cochran, M. and Witman, P. (May/June 2013). Location Selection Criteria for a Second Data Center or Storage of Off-site Materials. Journal of Emergency Management Vol.11, Issue 3, p. 237-245.
Ilie, V., Turel, O., and Witman, P. (January 9, 2013) Towards a New Design Paradigm for Complex Electronic Medical Record Systems: Intuitive User Interfaces. Presented at the Hawaii International Conference on System Sciences, Maui, HI.
Witman, P. (October 28, 2010) Website Self-Service Tools - Software Component Acquisition and "Death by a Thousand Cuts". Presented at the ISECON2010 Conference, Nashville, TN.
Witman, P., Johnson, K., and Sparkman, N. (March 23, 2010) The Church Online - the Impact of Online Social Networks on Church Congregations, Southern Association for Information Systems Conference, Atlanta, GA.
Furneaux, Brent, Hill, T., Smith, W., Venkatsubramanyan, S., Wang, J., Washington, A., Witman, P. (2009). Aging Content on the Web: Issues, Implications and Research Opportunities, Communications of the Association for Information Systems, Vol. 24, Article 8.
Witman, P. (January, 2009) Software Product Lines and Configurable Product Bases in Business Applications - A Case from Financial Services Presented at the Hawaii International Conference on System Sciences, Waikoloa, HI.
Witman, P. and Ryan, T. (January, 2010) Think Big for Reuse. Communications of the ACM, Vol. 53, Issue 1, p. 142-147, http://cacm.acm.org/magazines/2010/1/55773-think-big-for-reuse/abstract
Witman, P. and Roust, T. (2008) Balances and Accounts of Online Banking Users: A Study of Two US Financial Institutions. International Journal of Electronic Finance 2(2) (April, 2008).