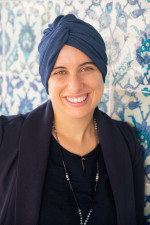 Rose S. Aslan, Ph.D
Associate Professor
Office Hours: On academic sabbatical for the year of 2021
About
Dr. Rose Aslan teaches courses on global religions, the Abrahamic traditions in comparative focus, and Islam. She is an interfaith activist well as a scholar of Islam and religious studies.
She is currently pursuing several different directions of research, all of which are connected through her interests in the construction and perception of sacred space, material culture, ritual, and pilgrimage in medieval and contemporary Islamicate contexts. Her in-progress research includes:
A book project that examines the ritual practices of Muslims in post-9/11 United States and how Muslims adapt their prayers to various situations, issues of religious accommodations, and how prayer is understood and depicted in the media and entertainment industry.

An ethnography of ebru (traditional Turkish art of paper marbling) artists in Istanbul and the construction and innovation of tradition and how art has become enmeshed in the Turkish state's political agenda.
Dr. Aslan lived and studied in Egypt for five years and has also lived in Turkey, Iran, Iraq, and Armenia and has travelled extensively throughout the Middle East, North Africa, and Europe. She is fluent in Arabic and can get by in her travels in Persian, Turkish, and French.
Education
Ph.D., University of North Carolina, Chapel Hill (Religious Studies)
M.A., American University in Cairo (Arab and Islamic Civilizations)
B.A., University of British Columbia (Near Eastern and Religious Studies)
Expertise
Islam and Muslim societies
Ritual practices
Interfaith and interreligious dialogue
Sacred space and pilgrimage in global religious contexts
Sufism/Islamic mysticism
Material culture, Islamic art, and aesthetics
Publications
Peer-reviewed Articles/Chapters
Co-authored with Sophia Arjana, "Red, White, and Blue: American Muslims on Hajj and the Politics of Privilege," Muslim Pilgrimage in the Modern World, ed. Babak Rahimi and Peyman Eshaghi, University of North Carolina Press (Spring 2019).
"Vocation and Identity Through the Study of Islam: Finding Pluralism at a Lutheran University," The Muslim World (2018).
"Salah (Prayer) in the Lives of Muslim Americans," Islamic Religious Practice in the United States, ed. Edward Curtis, New York University Press (2017).
"The Museumification of Rumi's Tomb: Deconstructing Sacred Space at the Mevlana Museum," The International Journal of Religious Tourism and Pilgrimage, Vol. 2, 2014.
Encyclopedia Entries
"Najaf,"Encyclopædia Iranica, online edition, available at http://www.iranicaonline.org/articles/najaf (2015).
"Adornments," "Occupations," "Sacred Space," "Writing" in Encyclopedia of Society and Culture in the Medieval World (vol. on Medieval Islamic World), ed. Pam Crabtree, (2008).
Book Reviews
Harry Munt. The Holy City of Medina: Sacred Spaces in Early Islamic Arabia. New York: Cambridge University Press, 2014. The American Journal of Islamic Social Sciences (Vol. 33 N. 3), Summer 2016).
Stephennie Mulder. The Shrines of the 'Alids in Medieval Syria: Sunnis, Shi'is and the Architecture of Coexistence. Edinburgh: Edinburgh University Press, 2014. International Journal of Islamic Architecture (forthcoming).
Shari L. Lowin. The Making of a Forefather: Abraham in Islamic and Jewish Exegetical Narratives. Leiden: E.J. Brill, 2006. Al-Masaq: Islam and the Medieval Mediterranean, (Spring 2009).
Ihsan Dhunun ath-Thamari and Muhammad Abdullah al-Qadhat. Risāʾil min at-turāth as-ṣūfī fī libs al-khirqa and Jamal ʿAlal Al-Bikhtī. Ḥuḍur as-Ṣūfī fī al-Andalus wa al-Maghrib ila hudūd al-qarn as-sabaʿ al-hijrī: darāsa taʿrikhīyya wa qiraʾāt tahlīlīyya fī qif Ibn Khamīr as-Sabtī min at-taṣawwūf wa al-mutaṣawwifa. Al-'Usur al-Wusta: Bulletin of Middle East Medievalists: Bulletin of Middle East Medievalists, (Vol. 19, no. 2, October, 2007)
Khaled Abou El Fadl. The Search for Beauty in Islam: A Conference of the Books. Islamica Magazine, Issue 19, Spring 2007.