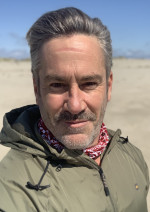 Robert A. Dull, Ph.D.
Associate Professor and Chair, Earth and Environmental Sciences Department
Office Hours: by appointment
Education
B.A. Anthropology/Archaeology, University of California - Santa Barbara, 1992
M.A. Geography and Environment, San Francisco State University, 1995
Ph.D. Geography, University of California - Berkeley, 2001
Expertise
Paleoecology, Paleoclimatology, Natural Hazards (wildfire, volcanism), Climate Change, Geoarchaeology, Mesoamerica, Western United States
Publications
Select Representative Publications:
Dull, R.A., J.R. Southon, S. Kutterolf, K.J. Anchukaitis, A. Freundt, D.B. Wahl, P. Sheets, P. Amaroli, W. Hernandez, M.C. Wiemann, C. Oppenheimer (2019). "Radiocarbon and geologic evidence reveal Ilopango volcano as source of the colossal 'mystery' eruption of 539/40 CE" Quaternary Science Reviews 222, doi.org/10.1016/j.quascirev.2019.07.037
Avnery, S., R.A. Dull, and T.H. Keitt (2011) "Human versus climatic influences on late Holocene fire regimes in southwestern Nicaragua" The Holocene 21(4):699-706.
R.J. Nevle, D.K. Bird, W.F. Ruddiman, and R.A. Dull (2011) "Neotropical human landscape interactions, fire, and atmospheric CO2 during European contact." The Holocene 21(5):853-864
Dull, R.A., R.J. Nevle, W.I. Woods, D.K. Bird, S. Avnery, and W.M. Denevan (2010) "The Columbian Encounter and the Little Ice Age: Abrupt Land Use Change, Fire, and Greenhouse Forcing " Annals of the Association of American Geographers 100(4): 755-771
Dull, R.A. (2008) "Unpacking El Salvador's Ecological Predicament: Theoretical Templates and 'Long-View' Ecologies" Global Environmental Change 18: 319-329.
Dull, R.A. (2007) "Evidence for Forest Clearance, Agriculture, and Human-Induced Erosion in Precolumbian El Salvador." Annals of the Association of American Geographers 97(1):127-141.
Dull, R.A. (2006) "The Maize Revolution: A View from El Salvador." In: John Staller, Robert Tykot, and Bruce Benz, eds. Histories of Maize: Multidisciplinary Approaches to the Prehistory, Biogeography, Domestication, and Evolution of Maize. Academic Press, pp. 357-366.
Dull, R.A. (2004) "An 8000 yr Record of Vegetation, Climate, and Human Disturbance from the Sierra de Apaneca, El Salvador." Quaternary Research 61:159- 167.
Dull, R.A. (2004) "A Holocene Record of Neotropical Savanna Dynamics from El Salvador" Journal of Paleolimnology 32: 219-231.
Dull, RA. (2004) "Lessons from the Mud, Lessons from the Maya: Paleoecological Records of the TBJ Eruption." In William I. Rose; J.J. Bommer, Dina Lopez, and Michael J. Carr, eds. Natural Hazards in El Salvador. Geological Society of America Special Paper #375, pp. 237-244.
Dull, R.A., J.R. Southon and P. Sheets (2001) "Volcanism, Ecology and Culture: a Reassessment of the Volcán Ilopango TBJ Eruption in the Southern Maya Realm." Latin American Antiquity 12(1):25-44.
Dull, R.A. (1999) "Palynological Evidence for 19th Century Grazing-induced Vegetation Change in the Southern Sierra Nevada, California, U.S.A." Journal of Biogeography 26(4): 899-912. .