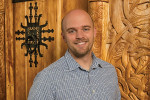 Samuel Claussen, Ph.D.
Associate Professor
Office Hours: By appointment
About
Dr. Claussen is a medieval European historian. His research deals with violence, religion, and chivalry in medieval Castile and its place in the wider Mediterranean and Atlantic worlds. Dr. Claussen works to understand the ideas of knights and men-at-arms in the medieval world through an examination of traditional historical sources such as chronicles, treatises, and the records of central government, but also through literary and imaginative sources such as frontier ballads, poetry, and chivalric romance. In a broader sense, Dr. Claussen is a historian of violence writ large, seeking to understand the human history of brutality and the way in which various peoples over time have embraced, rejected, reformed, and redirected the violent impulses of society.


Education
Ph.D., History - University of Rochester, 2015
Research Field: Medieval Europe
Teaching Fields: Modern China, Early Modern History of Science
M.A., Historical Studies - University of Wales, Aberystwyth, 2008
B.A., History and Political Science - Western State College of Colorado, 2006
Expertise
Medieval Europe
Spanish Empire
Knights and Chivalry
Violence
Lived Religion
Publications
Chivalry and Violence in Late Medieval Castile. Woodbridge: Boydell Press, 2020.
"Royal Punishment and Reconciliation in Trastámara Castile" in Treason: Medieval and Early Modern Treachery, Betrayal and Shame, ed. Larissa Tracy. Leiden: Brill, 2019, 100-118.
"Chivalric Violence" with Peter Sposato in Companion to Chivalry, ed. Robert Jones and Peter Coss. Woodbridge: Boydell, 2019, 99-117.
"Chivalric and Religious Valorization of Warfare in High Medieval France", in Prowess, Piety, and Public Order in Medieval Society: Studies in Honor of Richard Kaeuper, ed. Craig Nakashian and Daniel Franke. Leiden: Brill, 2017, 199-217.
Grant Funding
Lorraine Kochanske Stock Grant for Innovation in Medieval Studies - 2021
California Lutheran University's Faculty and Research and Creative Work Grant - 2016, 2022
Hewlett Grant for Academic Travel and Research - 2017, 2018, 2020, 2022, 2023
Experiential Learning Through the History of Food (California Lutheran University) - 2017-2018