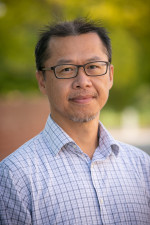 Scott C. Chiu, Ph.D.
Writing Center Director and Associate Professor of English
he/his/they
Office Hours: Wednesday 11-12 PM; Friday 11-12PM
About
Scott C. Chiu is Director of the Writing Center and Associate Professor of English at California Lutheran University. He leads the planning and implementation of the Writing Center programs, which emphasize multiliteracy practices, translingual writing, international writing, community writing, and research on writing center pedagogies. He teaches First-Year Writing, Writing Center Theory and Practice, Language & Linguistics, and Introduction to TESOL (Teaching English to Speakers of Other Languages). His current research focuses on L1/L2 writing transfer, Translingual pedagogies, Writing Center Studies, and Community Literacies.
Education
Ph.D. Michigan State University
M.A. Fu-Jen Catholic University, Taiwan 輔大語言所
Expertise
Writing Center Studies
Second Language Studies
TESOL
L2 Writing & multilingualism
Applied Linguistics
Publications
Chiu, S.C. (2017). "Connecting the Pedagogical Dots between the Writing Center and the ESL Writing Classroom" in B. Smith & N. DeJoy (Eds.), Collaborations and Innovations: Supporting Multilingual Writers across Campus Units (pp. 189-208). Ann Arbor, Michigan: The University of Michigan Press. (https://www.press.umich.edu/9412623/collaborations_and_innovations)
Chiu, S.C. (2016). "Negotiating Multiple Identities in Second- or Foreign-Language Writing in Higher Education" in C. Anson & J. Moore (Eds.), Critical Transitions: Writing and the Question of Transfer (pp. 303-334). Fort Collins, Colorado: The WAC Clearinghouse and University Press of Colorado. (With Stacey M. Cozart, Tine Wirenfeldt Jensen, Gitte Wichmann-Hansen, Ketevan Kupatadze). Available at http://wac.colostate.edu/books/ansonmoore/
Chiu, S.C. (2000). The significant relationship between early language and symbolic play. Proceedings of 1st National Congress of Early Intervention Program for Children with Developmental Disability. Changhua, Taiwan.