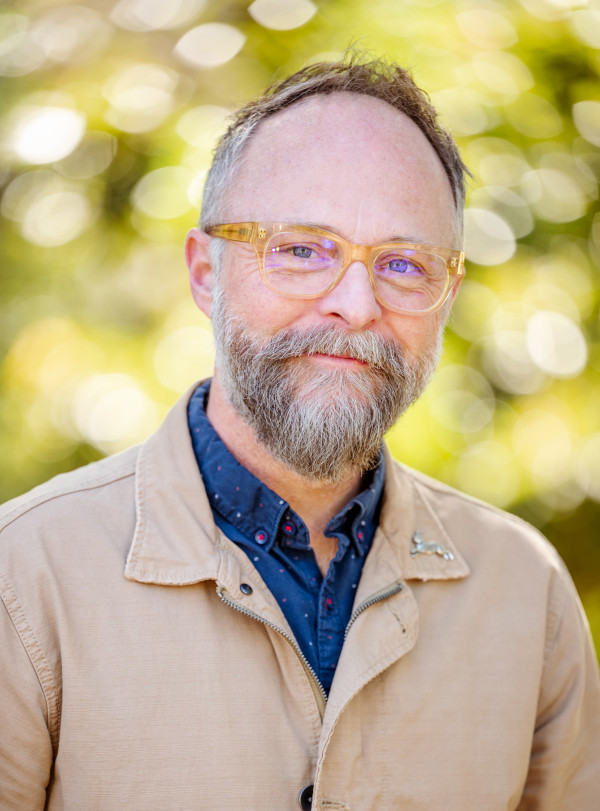 Sam Thomas, Ph.D.
Professor of Religion
Professor Thomas studied biology as an undergraduate and intended to go on to study medicine. While volunteering at L'Hopital Francais de St. Louis in Jerusalem after college, Dr. Thomas discovered what would become a lasting fascination with the origins of Judaism and Christianity in Mediterranean antiquity. Instead of medical school, he went on to graduate school to study the histories, languages, theologies, cultures, and peoples that contributed to the formation of the texts and the traditions of ancient Judaism and Christianity. The author of many books and articles, he serves as an editor for The Marginalia Review (themarginaliareview.com). Since arriving at Cal Lutheran, Dr. Thomas has developed courses such as Environmental Ethics and Food & Religion, and he is the founding faculty coordinator of the SEEd Project (Sustainable Edible Education).

In addition to his academic work, Dr. Thomas actively cultivates his interests in furniture making, poetry and literature, service and social justice, and backcountry hiking and fly fishing. He serves on the Faculty Steering Committee of the Center for Equality and Justice, is a former president of the board of directors of The Abundant Table, and currently serves on the boards of Los Padres ForestWatch and Slow Food Ventura County.

Dr. Thomas has degrees from St. John's University (B.A., 1994), Yale University Divinity School (M.Div., 2001) and the University of Notre Dame (Ph.D., Christianity and Judaism in Antiquity, 2007).

Dr. Thomas teaches, researches, and writes at the intersections of religious and philosophical ethics, ecology/environment, and food studies. He is a participant in the Yale Forum on Religion and Ecology, and works across academic boundaries to engage with practitioner-scholars, activists, and advocates for food and environmental justice.

In other scholarly work, Dr. Thomas has written extensively on early Jewish texts and traditions, focusing especially on the Dead Sea Scrolls. He also has interests in archeology, the formation of early Christianity in its various manifestations, and the history of Jewish-Christian relations. He is the author of the book, The 'Mysteries' of Qumran: Mystery, Secrecy and Esotericism in the Dead Sea Scrolls (SBL / Brill, 2009) and recent articles include "Hearing the Vision: galah 'ozen in 4QInstruction and Qumran Sectarian Texts" (HBAI 5), "Living Water by the Dead Sea: Water Metaphors and Performativity in Some Qumran Texts" (in Thinking about Water in Antiquity [ed. Ehud Ben Zvi; Walter de Gruyter, 2014]), "Watchers Traditions in the Dead Sea Scrolls" (in Looking at the Watchers; ed. Harkins et al.; Fortress, 2014), and "Eternal Writing and Immortal Writers: On the Non-Death of the Scribe in Early Judaism" (in A Teacher for All Generations; ed. Mason et al.; Brill, 2012).

Dr. Thomas is the author of the book The 'Mysteries' of Qumran: Mystery, Secrecy, and Esotericism in the Dead Sea Scrolls (SBL/Brill, 2009) and other works. For a full list of publications, see his CV.