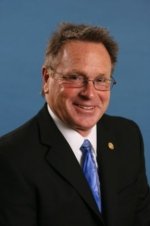 Timothy L Weaver, MBA
Senior Adjunct Faculty Member
It was my pleasure to be a part of California Lutheran University since 2011. I began teaching in the Bachelor's Degree For Professional's program and became a full time visiting professor in 2014. Currently I am pleased to serve as a member of the Senior Adjunct Faculty. While banking was my full time career for 40 years, I have been teaching business classes at Moorpark College for 38 years. I served as Department Chair and was honored to receive the adjunct faculty of the year award twice. Teaching remains my passion, while I also serve as the President of the Rotary Club of Thousand Oaks and am a Board member of Business Finance Capital, a Certified Development Company.
I graduated with an BA undergraduate degree from the University of New Mexico and received a Masters of Business Administration from California Lutheran University.
Finance, lending, and teaching. Business consulting.