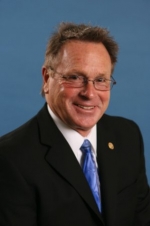 Timothy L Weaver, MBA
Visiting Lecturer, Business
Office Hours: MW 3:00pm to 6:00 pm
I retired from banking after 40 years in August 2011. I also retired from Moorpark College after 34 years in December 2013 and was department chair for business for the six years prior to my retirement (I was the only adjunct faculty member ever to be a department chair in any of the three colleges within the Ventura County Community College District, Ventura, Oxnard and Moorpark College's). I also received the Adjunct Professor of the Year Award twice at Moorpark College. I have been teaching at CLU since 2011 in the Bachelor's Degree For Professionals program and beginning in August 2014, I have been hired as a three year full time visiting professor. I am a member of Thousand Oaks Rotary Club for the past ten years and performing consulting work for the Valley Economic Development Corporation as their chief credit officer relative to government guaranteed loans (SBA and State of California).

I graduated with an ungraduate degree Bachelors of Arts degree from the University of New Mexico and received a Masters of Business Administration from California Lutheran University.

Finance, lending, and teaching. Business consulting.